Posted by Guest Author on Mar 21, 2008 in
Comic Books
|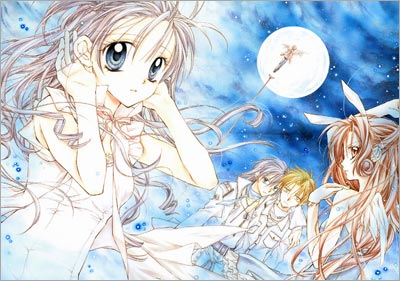 If you're into anime at all, you've probably heard of its most famous manga creators Shirow Masamune (Ghost in the Shell), CLAMP (Magic Knight Rayearth, X, Tsubasa Chronicle), and Rumiko Takahashi (Ranma 1/2, InuYasha). You may even know Akira Toriyama (Dragon Ball Z), Ken Akamatsu (Love Hina), and the godfather of manga himself, Osamu Tezuka (Astroboy, Black Jack). But these are only the most famous few drops in a sea of manga creators: Here is one of picks for the ten mangaka you really need to know— and keep an eye on:
Arina Tanemura
Arina Tanemura is a shoujo manga superstar, with hit series such as Kamikaze Kaitou Jeanne and Full Moon wo Sagashite under her belt. Her current ongoing series is Gentleman's Alliance†, which is being released in English by VIZ.
Tanemura's debut work was a 1997 series called I-O-N, about a girl named Ion Tsubaragi who develops psychic powers. After that she charged ahead with a collection of shorts called Firecracker is Melancholy, and dove into her first big hit: Kamikaze Kaitou Jeanne, a magical girl series about a high school girl who transforms to fight demons. Jeanne was followed up by the shorter Time Stranger Kyoko, which is a slightly sci-fi magical girl series set in the 30th century.
And finally comes Full Moon wo Sagashite (published by VIZ as Full Moon), featuring a 12-year-old girl named Mitsuki who wishes to be a pop idol but who has a throat cancer that can only be cured by removing her vocal chords— and a grandmother who is opposed to the idea of her granddaughter auditioning. When Mitsuki overhears two shinigami (death gods) talking about how she has only a year left to live, and she runs away to audition. The shinigami catch up with her and offer her a deal: if she promises to go quietly when her time comes, they will give her the ability to turn into a healthy 16-year-old so that she can audition.

Her current series, Gentleman's Alliance†, is NOT a magical girl like her more popular past series, but rather a high school shoujo romance. Its main character is Haine, who was sold to her wealthy foster parents for ¥50 million and was previously a gang member. She reformed when she met and fell in love with her classmate Shizumasa Touguu, and tries to get closer to him.
Tanemura is beloved for her expressive and flowery art as well as her strong female characters. VIZ has the rights to most of her series, including I-O-N, Time Stranger Kyoko, Full Moon, and Gentleman's Alliance†. Kamikaze Kaitou Jeanne is licensed by CMX, DC's manga imprint.
Gia Manry is a Portland, OR-based professional writer specializing in pop culture/entertainment writing. Read up on more of her work at giapet.net or hire her at GiaManry.com.