Posted by Guest Author on Mar 29, 2008 in
Comic Books
|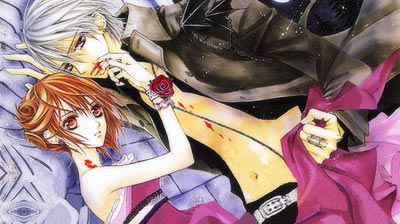 If you're into anime at all, you've probably heard of its most famous manga creators Shirow Masamune (Ghost in the Shell), CLAMP (Magic Knight Rayearth, X, Tsubasa Chronicle), and Rumiko Takahashi (Ranma 1/2, InuYasha). You may even know Akira Toriyama (Dragon Ball Z), Ken Akamatsu (Love Hina), and the godfather of manga himself, Osamu Tezuka (Astroboy, Black Jack). But these are only the most famous few drops in a sea of manga creators: Here is one of picks for the ten mangaka you really need to know— and keep an eye on:
Matsuri Hino
The first volume of Matsuri Hino's Vampire Knight was released in January, 2007. By the end of 2007 only three volumes were out— but the series made it to ICv2's top manga properties for 2007. It was #7 on the list, beating out heavy hitters like Fullmetal Alchemist and Loveless. Now the manga has an anime adaptation starting in April in Japan, which is only likely to increase the franchise's popularity.
The series follows a young girl named Yuki Cross, who attends the Cross Academy. She is one of the school guardians, who ensures that the Day Class and the Night Class don't have any troublesome interactions. See, Yuki knows the school's biggest secret: the Night Class consists entirely of vampires. Yuki herself is the victim of a vampire, her parents having been killed by them many years before. Now she fights for peace between the two races…even if she has to fight against the other school guardian, the vampire hunter Zero Kiryu.

The series is a scintillating soap opera featuring sexy vampires and Hino's lush, slightly gothic-style art which has attracted many readers of both genders, a relatively uncommon feat amongst shoujo mangaka (although perfectly typical for shounen series).
Vampire Knight is Hino's most popular series, but American fans were first introduced to her with her 2002 series MeruPuri: Märchen Prince, about a high school freshman named Airi who finds herself hosting a spoiled young lord from another world— as well as hosting all the troubles that made him run away.
Both series are licensed by VIZ as part of their Shojo Beat line of manga, and Vampire Knight fans are panting for the anime adaptation— as well as the next chapter.
Gia Manry is a Portland, OR-based professional writer specializing in pop culture/entertainment writing. Read up on more of her work at giapet.net or hire her at GiaManry.com.