Posted by Guest Author on Mar 28, 2008 in
Comic Books
|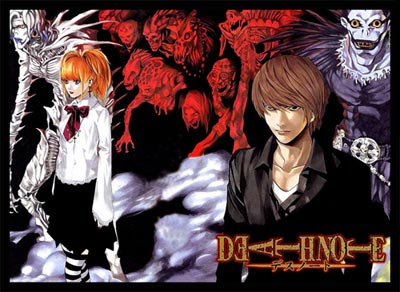 If you're into anime at all, you've probably heard of its most famous manga creators Shirow Masamune (Ghost in the Shell), CLAMP (Magic Knight Rayearth, X, Tsubasa Chronicle), and Rumiko Takahashi (Ranma 1/2, InuYasha). You may even know Akira Toriyama (Dragon Ball Z), Ken Akamatsu (Love Hina), and the godfather of manga himself, Osamu Tezuka (Astroboy, Black Jack). But these are only the most famous few drops in a sea of manga creators: Here is one of picks for the ten mangaka you really need to know— and keep an eye on:
Takeshi Obata
Takeshi Obata is an odd member of this list: the only one who has never written a hit manga (in fact, he's only written one manga, period). And yet, he's also one of the most well-known and well-loved creators in my 10some. Why? Because he is the artist behind the phenomenal hit Death Note, as well as the popular board game shounen series Hikaru no Go and the upcoming shounen action series Blue Dragon, based on a popular game.
Obata is a rare sort of shounen artist: his style is very heavy on the details, whether on facial expressions, in backgrounds, or on clothing. His drawings are also more fashion-conscious than your average Naruto issue, often featuring recent trends in clothing and accessories.
But whether the art is for a go tournament in Hikaru or a shinigami consulting with a human in Death Note, Obata's art is always extraordinarily attractive and, to put it simply, just plain cool.

He himself is somewhat troubled, as far as mangaka go: he was arrested in 2006 for possessing an army knife in his car. (Japan has very strict weapon control laws.) He claims he keeps it there for camping trips.
The Blue Dragon game and anime may not appeal to you, as an RPG featuring young kids and so-so review scores since its release, but if you want to see some of the best art in contemporary manga, pick up Blue Dragon Ral_Grad, or one of Obata's other works.
Gia Manry is a Portland, OR-based professional writer specializing in pop culture/entertainment writing. Read up on more of her work at giapet.net or hire her at GiaManry.com.