Posted by Guest Author on Mar 22, 2008 in
Comic Books
|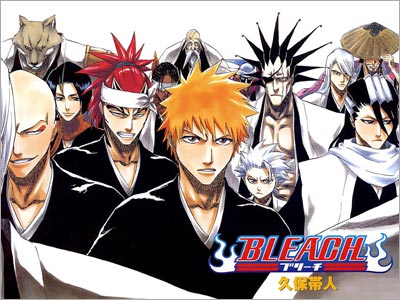 If you're into anime at all, you've probably heard of its most famous manga creators Shirow Masamune (Ghost in the Shell), CLAMP (Magic Knight Rayearth, X, Tsubasa Chronicle), and Rumiko Takahashi (Ranma 1/2, InuYasha). You may even know Akira Toriyama (Dragon Ball Z), Ken Akamatsu (Love Hina), and the godfather of manga himself, Osamu Tezuka (Astroboy, Black Jack). But these are only the most famous few drops in a sea of manga creators: Here is one of picks for the ten mangaka you really need to know— and keep an eye on:
Tite Kubo
You may have heard of a little manga called Bleach, about a high school guy and a few shinigami (death gods) that fight various evil-doers. Sound familiar? It's only one of the biggest anime and manga hits in recent years.
Creator Tite Kubo is actually the son of a town council member in Hiroshima. His intense art style earned him an editor's attention when he entered a manga contest, and although he didn't win, he was able to do a few short stories. He got his big break with Zombie Powder, an action series that was serialized in Weekly Shounen Jump for a year before it was discontinued.

His next attempt was the aforementioned Bleach, featuring high schooler Ichigo and an army— literally —of death gods against whom he first fights, then eventually allies with. The manga series began running in WSJ and was an instant hit, spawning an equally popular anime in 2004.
The huge cast of likeable characters on both the "good" and "bad" sides of the fence combined with a striking visual style and, in the anime's case, a huge hit soundtrack have led Bleach to the top of the anime franchise list, easily on par with contemporaries like Naruto and One Piece. All that remains to be seen is whether it will be as lasting an influence as Dragon Ball Z— though the existence of various stage musicals, video games, and two animated feature films suggests that it's not going anywhere for the time being.
Gia Manry is a Portland, OR-based professional writer specializing in pop culture/entertainment writing. Read up on more of her work at giapet.net or hire her at GiaManry.com.