Posted by Michael Pinto on Apr 18, 2008 in
Comic Books
|
As part of our ongoing campaign to support the destruction of superheroes I've decided to shine some light on publisher :01 First Second books. What I like about these folks is that they've done an amazing job bringing high quality yet quirky graphic novels to a world that's been lost to the epic battle of comic book clichés. So here's a title from their back catalog which I think is worth checking out:
American Born Chinese, by Gene Luen Yang
What I like about Gene Luen Yang's work is that he's telling a very personal story drawing on his own past and surrounding Chinese-American culture. Even though he's telling his own story I found quite a few nerd architypes that other fanboys can relate in the book touching on age old geek themes like High School isolation and dealing with everyone from bullies to a crush on a pretty classmate: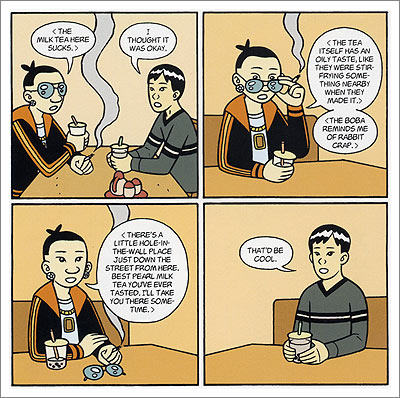 However the book isn't all autobiography, as Yang explores the larger issues of Chinese identity in America. For example he has a character named Chin-Kee who is a racist sterotype that he brings into everyday life situations to explore social prejudice. The impact of these mini-stories reminded me of the Spike Lee film Bamboozled, which makes you think about current attitudes in society by re-exploring the historical caricatures of racism.
I also enjoyed his exploration of various traditional cultural icons like the Monkey King mixed in with guest appearances by the philosopher Lso-Tzu. Yang brings a sense of love and humor to these characters by showing them in both mythical and real life settings. Although he never is high handed and understands that sequential art is about storytelling: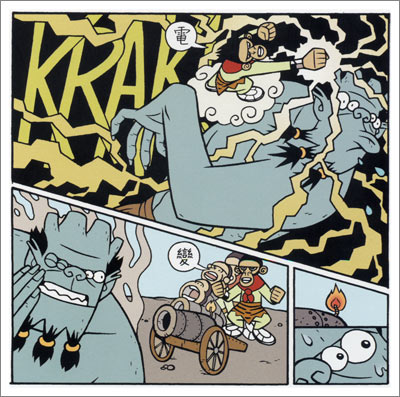 So to conclude I'd have to say that American Born Chinese (and Gene Luen Yang ) knocked me out: