Posted by Guest Author on Apr 22, 2008 in
Videogames
|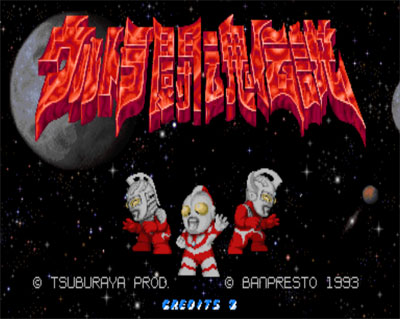 In this series retro game expert Zac Bentz picks his top ten MAME games. If you're a casual gaming fanboy MAME stands for Multiple Arcade Machine Emulator and is a software emulator that allows you to play ancient arcade games on modern hardware.
Ultra Toukon Densetsu – 1993 – Branpresto
Ultra Toukon Densetsu is an SD version of the long running and wildly popular, not to mention highly influential, Ultraman series. The main gimmick of the game is that all the characters are super deformed, shrunk down to childlike proportions with stubby limbs and large heads.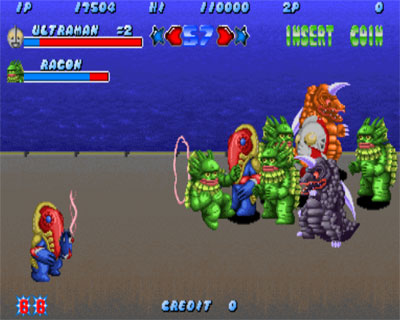 There are three ultra fighters to choose from, Ultraman, Ultra Seven and XXXXXX. All three have slightly different powers and attack methods, but they all boil down to essentially the same thing. One would think that each ultra person would be more individualized to appease the rabid fans, but there is very little uniqueness to any character.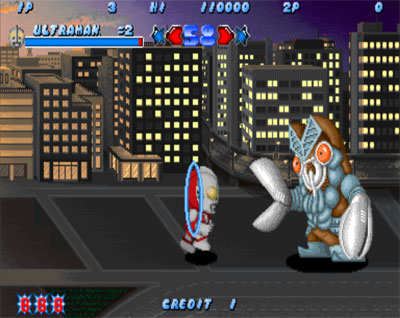 This also applies to the baddies. While they are certainly varied and extremely colorful and cute, they all behave is very similar way. Some might shoot fire or latch onto the ultra team, smothering them with hugs and kisses, but each one is also just about a strong as all the others, and there is almost not need for separate strategies.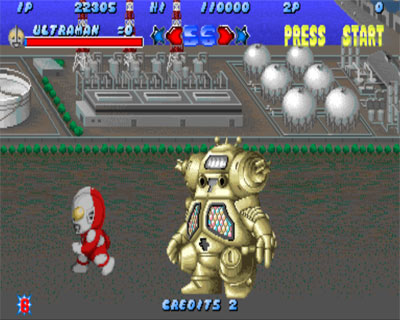 In fact, there really isn't any need for strategy of any kind, even for the bosses. It seems that the only way to really defeat them is through brute force, either by mashing the single attack button, sending a bunch of special ultra attacks their way, or simply having a large number of quarters to feed into the machine. Trying to finesse the game will only get you killed.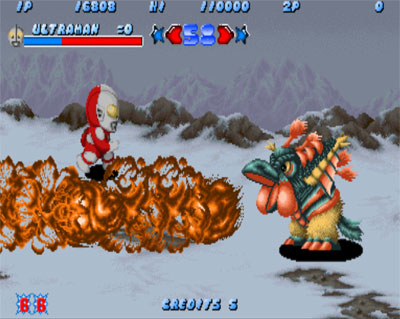 There are a few interesting looking boss characters, pulled from the original TV series, but that's all they are, nice looking. Again, there is very little personality in any of them, and again all you need to do it bash away for a while until they're dead.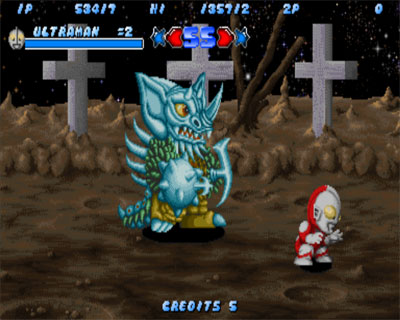 It's obvious that Ultra Toukon Densetsu is nothing more than a quick cash-in. There is nothing here to interest the fans, and nothing to bring in any outsiders. The characters might make for an interesting design study, but aside from that, there is now need for this thing to exist.
Zac Bentz is a regular contributor to the Japanese culture blog Japanator, runs his own Japanese music review blog ZB's A-Z of J-Music and plays crazy electro-rock in The Surfactants. He lives in Duluth, MN with his wife, pets and a closet full of adventure.