Posted by Michael Pinto on Apr 16, 2008 in
Comic Books
|
As part of our ongoing campaign to support the destruction of superheroes I've decided to shine some light on publisher :01 First Second books. What I like about these folks is that they've done an amazing job bringing high quality yet quirky graphic novels to a world that's been lost to the epic battle of comic book clichés. So here's a title from their back catalog which I think is worth checking out:
A.L.I.E.E.E.N.: Archives of Lost Issues and Earthly Editions
of Extraterrestrial Novelties by Lewis Trondheim
Lewis Trondheim is the pen name for Laurent Chabosy, a well known French cartoonist whose previous work has made the jump to animation in Europe. The first thing I liked about this book is that sort of reminds me a great deal of Krazy Kat in that you have a set of silent characters wandering around a surrealist (and somewhat alien) landscape: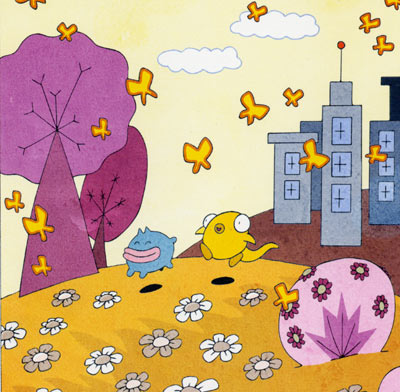 As you get to know this strange world the first thing that hits you is the nice variety of character designs that Trondheim has packed the book with. While there isn't a single linear story, the book is divided with into several page sequences that give you a gag or a window into the minds of these strange characters who seem all too human in their chillike range of emotions. Being forced to work without dialogue Trondheim makes you feel like you're looking at still frames from a film — so you get a strong sense of exploration looking at each individual frame and then jumping to the next: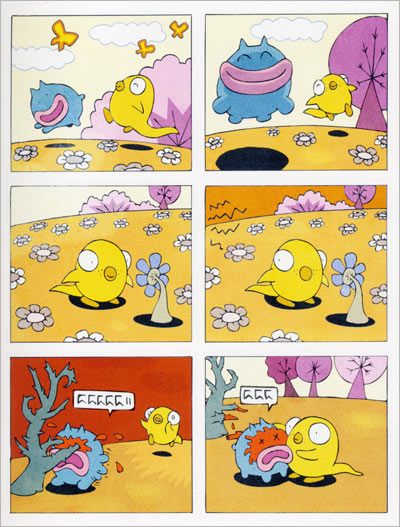 As with any good surrealistic painting Trondheim's world does seem to have a set of rules that's underneath the surface that's based on reality. For example some scenes are shown at day, others at night. There are a few examples of the characters speaking a language which is shown are in a coded alien dialect which is made up of odd geometrical symbols: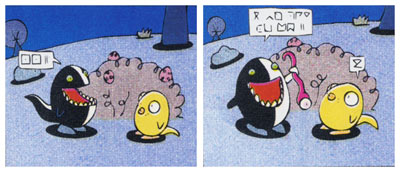 A.L.I.E.E.E.N. reminds of the upsidedown landcsape featured in Yellow Submarine combined with the chase scenes from the 1984 anime cult classic Birth. My only regret with this book is that I wish there was more, although I'd hate to see it turned into an animated film because I think presenting it in a linear fashion would take away from the feeling of mystery that surrounds each page. I wouldn't mind seeing it turned into a video game (ala Myst) as long as the game had no structure and didn't follow any rules, as that's Lewis Trondheim's real charm.