Posted by Guest Author on Apr 23, 2008 in
Comic Books
|
As part of our ongoing campaign to support the destruction of superheroes I've decided to shine some light on publisher :01 First Second books. What I like about these folks is that they've done an amazing job bringing high quality yet quirky graphic novels to a world that's been lost to the epic battle of comic book clichés. So here's a title from their back catalog reviewed by indie comix expert Jenny Gonzalez:
Vampire Loves, by Joann Sfar
Reading this book I couldn't help but picturing it's protagonist, Ferdinand the Vampire, being ill at ease in the NYC vampire scene, a notion that made me chuckle. He's an anachronistic lover of acoustic folk music, cats and three piece suits. He never kills when he feeds—in fact, he bites his victims with only one tooth so it will be no worse than a mosquito bite. And despite the sensuality and romanticism that has flourished around vampires in recent decades, his love life is in shambles: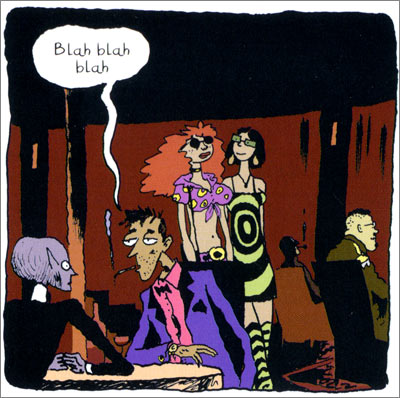 When we first are introduced to this "predatory" creature, it is he who is the heartbroken victim—of his half plant half woman girlfriend who has been cheating on him and deftly manipulates the situation with words to make it out to be his fault somehow. (I found her the most irritating character in the book, by the way.)And thus begins Ferdinand's odyssey of interaction with various females, some mythical creatures, some human, in his search for love: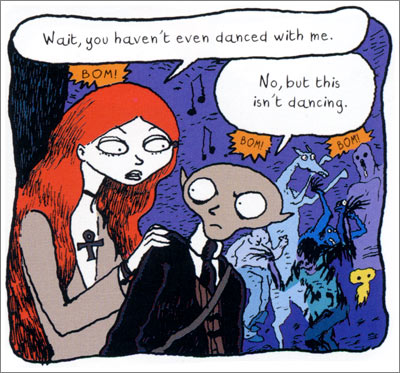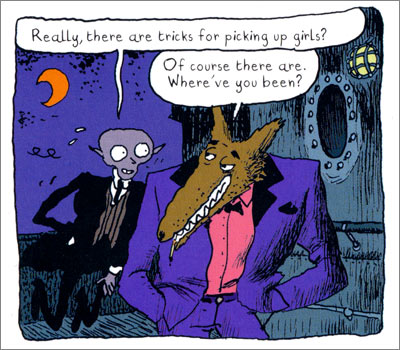 Despite the fantastical trappings and mythical creatures of Vampire Loves, Sfar's work is not so much a conventional fantasy story as it is a meditation on the nature of relationships, dating, flirting, and other such very human interaction.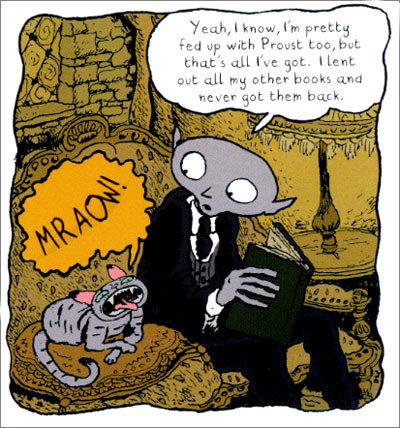 Jenny Gonzalez is a New York City cartoonist and punk rock singer. You can see her stuff at jennydevildoll.com.