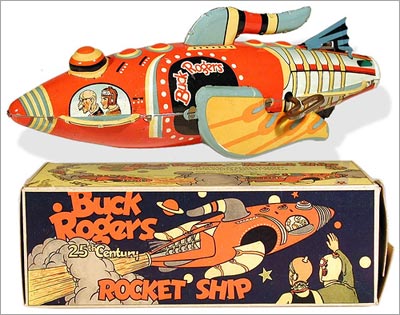 In August of this year Buck Rogers will be 80 years old! The franchise which takes place in the year 2419 first started life as a short story in the pulp magazine Amazing Stories has has spawned comic books, novels, toys, serialized movies and two TV series (first in 1950 on ABC and then the disco version in 1979). Now it looks like Nu Image/Millennium Films has acquired film rights to the property and will create a live action film:
Nu Image gets 'Buck Rogers' rights
"Nu Image/Millennium's Avi Lerner got the rights from the Dille Trust, which is run by the surviving family of series originator Frank Dille. Those rights had once been with Disney, but the Dille family was attracted to moving them to a small movie and gaining more control over the direction of the film. Despite web reports that Frank Miller had boarded the project, sources at Millennium disputed than any creatives had yet aligned to the project."

Here's a clip from the 1939 twelve part film serial which starred Buster Crabbe:
Here are the opening and closing titles for the 1979 show:
And for you children of the 80s here's a related Mego toy commercial:
Vintage ray gun toy image found via Kiel Bryant.