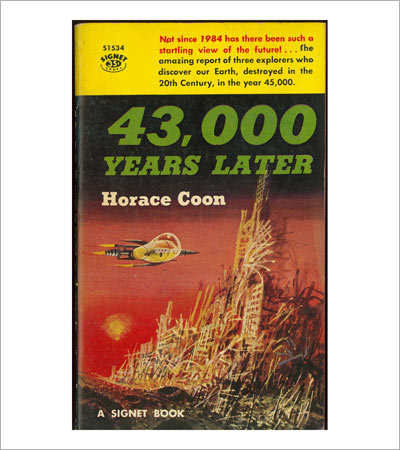 Oh sure anyone can wrote about the world 100 years in the future, but this 1958 novel 43,000 Years Later by Horace Coon attempts to explore the year 45,000 from the point of view of explorers visiting Earth after it was destroyed in the 20th Century.
Sadly I couldn't find a good bio of Horace Coon on the net, however I did come across a few other titles that he may have been the author of: Triumph of the Eggheads from 1955 which is a non-fiction title on intellectuals in American government (ah yes! the good old days) and American Tel and Tel: The Story of a Great Monopoly which was published in 1939. It's ironic how these mid-20th century themes of nuclear proliferation, the importance of smart government and the financial power of telecommunications are still very much topics that are still in style.
The abstract looking illustration is by Richard M. Powers who did quite a few pulp covers that were very heavily influenced by surrealistic and dadaistic artists like Max Ernst. What I like about his work is that it's a nice break from the realism that you see in so many pulp covers from the 30s through the 50s — Powers is daring to do a science fiction book cover in a modernist art style, which would become a bit more popular in the 60s (although is sadly out of style with unimaginative publishers today). By the way if you like the cover you can buy a copy of The Art of Richard Powers
at amazon.com. A nice personal account of the life of Richard Powers can be found here.
Book cover discovered by digital archivist Jason who resides in Vancouver, Canada.