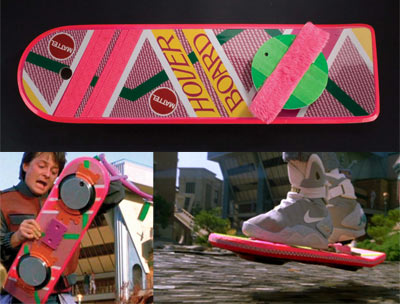 Was Back to the Future II made 19 years ago? Ouch! Well if you can't afford to time travel you can still own a chunk of your youth for a mere $30,000 to $50,000 as the hoverboard that Michael J. Fox used in the last two Back to the Future films is now for sale on eBay:
Michael J. Fox hoverboard – Back to the Future II
"This is one of the hero Mattel Hoverboards used by Michael J. Fox in his most famous role as "Marty McFly" in the Robert Zemeckis classic 80s trilogy, Back to the Future. Two styles of Hoverboard were made for and employed in the film – lightweight boards of styrofoam construction and thick and durable wood-based props – this example is the latter, and is recognized as the best example of all wood Hoverboards to have survived the rigors of filming. The illusion of Michael J. Fox as "Marty McFly" hovering through the air was achieved with practical effects, with actors in rigged harnesses being "flown" via cranes, with special effects taking care of the rest.
Of the two styles of props used in the film – styrofoam and wood – the styrofoam examples in collections today have not held up as well, given the more fragile nature of the material and the abuse they endured in production. Few wood examples have survived, and the collector who obtained this specimen from the prop master chose this for his personal collection as the premiere example of those preserved following the film. It is in used but outstanding condition, and is very rare in that it is entirely complete and intact. Given the wood build and use of metal components, it looks and feels like a "real" prop. This piece has the complete fully functional and rear ballbearing-mounted footpad that rotates 360 degrees, as well as the bottom "magnet plates". Of the two styles of stickers used for the effects, this prop has the "photoboard"-style sticker affixed. In addition, there is other textured styling and hand painting. This Hoverboard also features the hole in the top, representing where the handlebars were that "Marty" pulled off after borrowing the "toy" from the little girl in the film."
Found via ohgizmo.com.