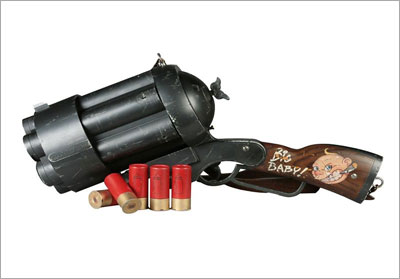 You'll have to wait until 2009 to own your very own Hellboy 2: 'Big Baby' Shotgun Life Size Replica which is available from bigbadtoystore.com for a mere $699.99 (what's a recession to a hardcore fanboy anyway?):
"Sideshow is proud to bring you the Big Baby Life-Size Prop Replica from Hellboy II: The Golden Army. The Big Baby Prop Replica features six removable shells and a musical wind-up feature that plays the tune Lullaby and Goodnight, and comes complete with a sturdy display base. The Big Baby Life-Size Prop Replica is the perfect addition to any collection, a reflection if Sideshow's dedication to quality."
And while we're on Hellboy you may get a kick out of this random quote generator that's being used to promote the film:
Shotgun found via nerdapproved.com.