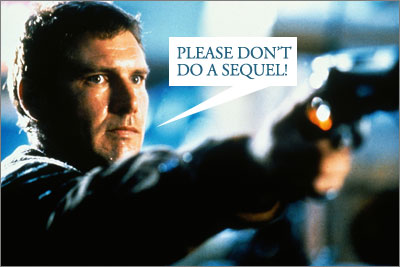 I just loathe the idea of a Blade Runner sequel with every cell of my body:
Exclusive: Eagle Eye Co-Writers Working on Blade Runner 2
"Wright revealed at the Creative Screenwriting event that they have been working on various treatments for a Blade Runner sequel over the last couple years. And there is also the claim that recently the duo have been working with Blade Runner co-executive producer Bud Yorkin on the project. It should be noted that Yorkin likely doesn't control the rights to a Blade Runner sequel, and all of this is being developed outside of the studio.
But this isn't just some small side project, Travis also claims that they are already working with a pre-visualization team on some of the hunter action sequences for their eventual pitch with the studio. I don't believe that Ridley Scott is involved, but the screenwriting team has worked directly with his brother Tony Scott on projects, so their might be a possible connection."