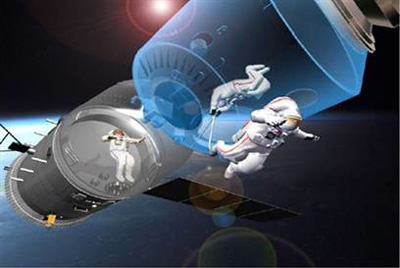 While NASA is working away at getting back to the moon, China is slowly building up an amazing manned space program with a strong focus. It was only back 2003 that they had their first manned launch, and now by the end of the month they'll perform a spacewalk on live TV:
China Gears Up for Third Manned Spaceflight
"China is gearing up for its third manned spaceflight, set to include its first ever spacewalk, later this month. The three-member crew is not yet named for the Shenzhou 7 mission, due to launch sometime between Sept. 25 and Sept. 30 from Jiuquan Satellite Launch Center in Gansu Province, China, but a spokesman for the launch center told the Shanghai Daily newspaper that preparations were on track for liftoff."
…It may not happen for a few years but my bet is at this rate China will beat the United States back to the moon. These programs take years to develop and by the time politicians are paying attention it will be too late. Of course it should be said that if the United States, Russia, Europe and China worked together my bet is that we could be talking about landing on Mars instead of going back to the moon (but sadly that is very much science fiction right now).