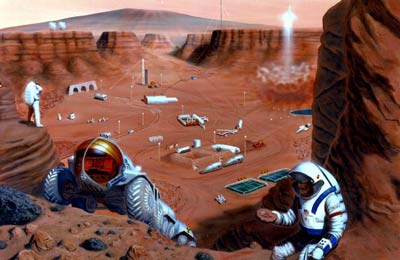 NASA needs a stronger champion, current Administrator Michael Griffin thinks we should return to the moon because it is easy. The irony of this is that JFK picked the lunar mission because it wasn't easy. Frankly if our only goal is to return to the moon we might as well just give NASAs budget to China as they're already well on track to doing this now. To me part of the point of NASA is doing what hasn't been done before — this sort of R&D project allows us to innovate as well as explore:
NASA Chief: Moon Base Must Precede Mars Mission
"NASA Administrator Michael D. Griffin defended his agency's determination to establish a lunar colony before embarking on a manned Mars mission Sept. 30, arguing that those who prefer to focus only on Mars are overestimating what is known about the Moon and underestimating the difficulties of going to Mars.
Addressing the International Astronautical Congress here, Griffin said the U.S. Apollo program spent a total of just 27 working days on the Moon, which he said is as big as Africa and merits substantially more exploration.
Several space agencies, including some in Europe, say their scientists are much less interested in the Moon than in Mars and that, since doing both is beyond their means, are weighing whether to focus on Mars."