Posted by Michael Pinto on Oct 17, 2008 in
Comic Books
|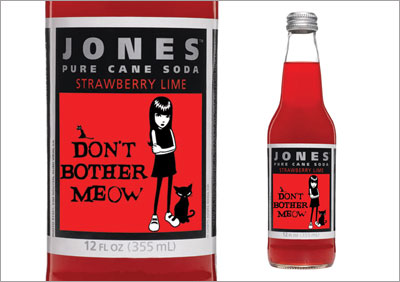 This looks like a good low budget fanboy gift for Christmas or maybe Halloween:
Emily the Strange, Jones Soda Team Up
"Now you can get Emily the Strange in a bottle! Emily comic book publisher Dark Horse Comics has teamed up with Jones Soda Co. to launch a limited-edition line of Emily the Strange soda pops on www.myjones.com.
Dark Horse Comics is known for breaking tradition and bucking trends. It arranged the partnership with Jones Soda Co., part of Jones Limited, to provide comic and soda fans with a new way to enjoy some of Dark Horse's most popular characters.
Six special-edition Emily art labels have been created for the sodas. And only 600 six-bottle packs of each of the six themes will be available, just in time for Halloween on October 14. These special-edition sodas, which come in Strawberry Lime, Pure Cane Cola, and Cream Soda, will only be available here. The other Dark Horse comic featured in the program will be Eric Powell's The Goon, which will launch with the soda line."