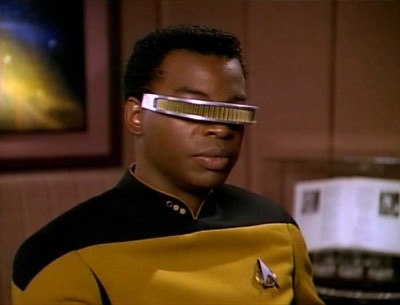 Someday in the future spaceships will make use of talented but perhaps blind engineers to rescue the day? Yes it sounds like the character Geordi La Forge from Star Trek: The Next Generation, but no it's the year 2008 and our hero is Marco Midon who works for NASA:
Blind NASA engineer solves Russian problem
"A U.S. space agency team led by a blind engineer built a system to receive data from a Soyuz spacecraft just days after Russia asked for assistance. NASA officials said the request from the Russian Federal Space Agency was to devise a way to capture telemetry data from a Soyuz space capsule during de-orbit and re-entry.
Marco Midon, a blind NASA electronics engineer, proposed a mobile system be deployed at a ground site below the Soyuz re-entry path after its separation from the International Space Station. Midon ordered the equipment. He and other NASA engineers then traveled to Athens, Greece, to set up the equipment on the roof of the American Embassy. Just after 6 a.m. on a morning in late October, only days after the Russian request, the system began receiving data from the Soyuz capsule as it re-entered Earth's atmosphere."
By the way I found this interesting note about the back story of our fictional hero Geordi La Forge which has an interesting fanboy connection:
"Gene Roddenberry created the character in honor of George La Forge, a fan of the original Star Trek series who died from muscular dystrophy in 1975."