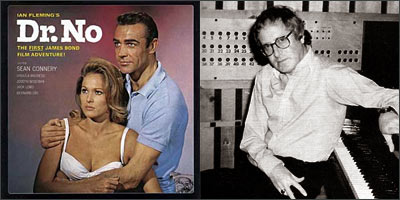 My favorite John Barry theme is from the 1960 film Beat Girl, but with the current James Bond buzz I'm happy to see John Barry get some long overdue recognition for his talent.
John Barry invented the spy movie score
Unique arrangements ushered in a new genre of films
"Very few composers can be said to have created a new style of film music," says David Arnold. "John Barry single-handedly created the spy genre." Arnold, who recently completed scoring "Quantum of Solace" (his fifth James Bond score), has a long way to go to catch up to Barry's record of 11 complete 007 scores (not counting his arrangement of the original "James Bond Theme" for "Dr. No").
Arnold admires Barry's accomplishments — saluting them in his 1997 album "Shaken and Stirred" — and Arnold's Bond scores, from "Tomorrow Never Dies" to "Die Another Day," still draw on the musical ideas that accompanied 007's earliest film adventures 40 years ago. It was a combination of the time (the early '60s), a collision of musical cultures (the end of the big-band era, the beginnings of rock) and the offbeat qualities of Ian Fleming's creation that led to Barry's unique mix of jazz, rock, pop and traditional orchestral writing."
Here's a great video of a record player playing a 1962 record of the James Bond theme, although I think the best way to appreciate John Barry is to close your eyes while listening to the score:
And here's my personal favorite — the theme to Beat Girl: