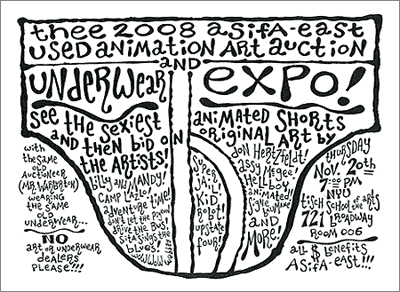 Editor's Note: This week animation industry insider Joe Strike takes us to a charity auction where the who's who of NYC animation embrace their inner fanboy to swap goodies and gawk at cartoons.
Whatever possessed me to raise my hand? I went into the ASIFA auction on November 20th, as broke or broker as anyone else in the USA today, just to see who was there and what was going on… before I knew it I was bidding on a 1926 copy of Animated Cartoons, by one E.G. Lutz
, a copy of the book that taught Walt Disney how to animate (or so the legend goes), for a mere $60.
Maybe it was Tom Warburton's smooth spiel. There the Curious Pictures honcho stood, seedily resplendent in a satiny burgundy smoking jacket, his smooth patter beguiling one and all. (Now that I think of it, all I had was Tom's word that this was the book that started Walt on his road to world domination.) Maybe it was my timing, walking in just as a collection of Kid Robot Simpsons collectible figures went for $150; by comparison $60 seemed like such a teeny bit of money for a valuable piece of animation history.
Well, $60 soon turned into $65; should I keep going? Mr. Warburton looked at me with a sly expression; "$70 is only $5 more than 65." It was a line he would use many times as the night went by, but this time I was the fish that snapped at the shiny lure. With a 'what have I done' look on my face, I was now the proud owner of a book that would teach me everything I need to know to produce state of the art 1920's animation.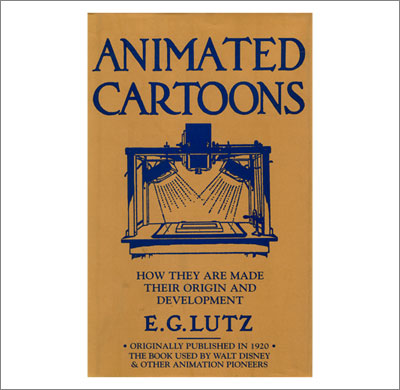 The event, officially known as the "2008 ASIFA East (the NY chapter of the international animation society) Used Animation Art and Underwear Expo" was just getting rolling. Weirdness ensued as some 41 different items (donated by various members of the NY animation community — the Lutz tome came from J.J. Sedelmaier) were auctioned off in either extended, tension-filled bidding wars or 'you can have it, I changed my mind' hand-offs. This probably never happened at Sotheby's, but more than once Mr. W or ASIFA's Linda Beck, acting as his Vanna White, decided they wanted the item for themselves and started bidding against the folks in the audience and occasionally even winning. (Mr. W shelled out $75 for a marker drawing of Bob Boyle's pre-school Nick Jr. star Wubbzy.)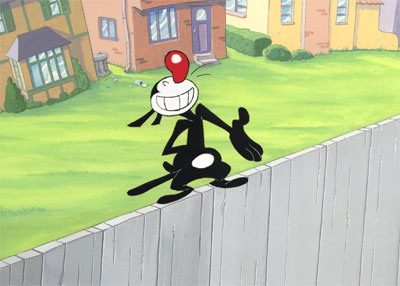 The item I really wanted once I set eyes on it, but couldn't afford it after blowing my wad on Lutz: an original cel and background from Greg Ford and Mark Kausler's 1930's-style retro-toon "It's The Cat" depicting the title feline atop a backyard fence under the watchful eye of a tranquil-faced moon. (It went for $80; Linda coolly dropped $85 on the next item: a different but equally enchanting "Cat" cel.)
"Adventure Time" is going to be the next big thing in the 'what the hell was that?!" school of animation. (That's meant as praise btw.) A one-shot produced for Nickelodeon's Random! Cartoons that was so wonderfully weird, "AT" shorted out Nick's programming circuits — so Cartoon Network grabbed it and is taking it to series. All this is by way of saying a miniscule marker sketch of its stars by creator Pendleton Ward went for a quick $90. By comparison (and in the 'life isn't fair' department), a beautiful extended scroll-like rice paper painting by animator Howie Shia, inspired by his award-winning "Flutter" went for a mere $45, even though it was executed in inkwash, gouache and, depending on who you believe, "the artist's own blood" (Mr. W) or "a lot of tears" (Mr. Shia himself). What, no sweat?
The auction's penultimate items: two tiny space-age moderne abstracts from Pixar's Lou Romano (the voice of "Ratatouille's" Linguini) that went for $280 and $300, followed by the 'saved the best for last' biggie: an ink wash painting of Genndy Tartakovsky's time traveling ninja Samurai Jack that brought in an auction-topping $430.
By the end of the night ASIFA East was $3,495 richer than it had been that afternoon — and I was $70 poorer. But hey, if Lutz was good enough for Walt…
Joe is an occasional animation scripter and freelance NYC writer covering animation and sci-fi/fantasy entertainment. His work has appeared in the NY Daily News, Newsday, the New York Press and, as they used to say on Rocky and Bullwinkle, 'a host of others.' He is a regular contributor to the animation industry website awn.com, but it's much easier to visit joestrike.com to see what he's been up to lately.