Over the years I've kept running into the same group of 3D retro-styled characters in Japanese printed advertising and that at first reminded me of Rankin-Bass style stop motion characters but have their own original look. I was guessing they might be stop motion since they were photographed rather than drawn or rendered.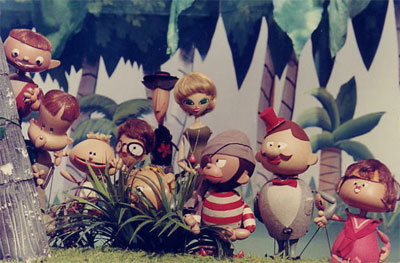 On doing some research I figured out they came from a mid 1960s series Hyokkori Hyoutan-jima (ひょっこりひょうたん島) which translates to something like "Unexpected Gourd Island" and the characters were puppets rather than animated. They have to be Japan's most famous puppet TV show though of course the Muppets are seen all over and "Saku Saku" was trendy for a while.
I guess since they aren't anime there is hardly anything in English actually about the series online.
I was able to find a DVD of recently made revival material, but except for the songs and 2D animated credits I can't find the original material online. Although YouTube has some recently made parts of episodes:
Though seemingly most abundant of all is the Morning Musume 2003 cover version of the theme song:
There seems to be 2 versions. This one has some of the puppets and set design. Maybe it was made for an NHK appearance so the puppets could appear?  Then this one just has unexpected facial hair.
Nick Kent is a New York based artist who works with electronic media and is an occasional pop culture pundit.