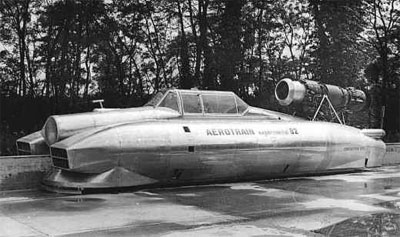 The Aérotrain sounds like a plot device from a steampunk novel — a rocket powered railroad car designed to travel on a monorail. This amazing retro tech project was lead by engineer Jean Bertin in France from 1965 until 1977. Sadly Bertin passed away in 1975, and his technology was passed over in favor of high speed trains that used high-powered electrical motors. Shown above is a working prototype from 1967 that was powered by Pratt & Whitney JT12 engine. Below is an early concept model which was created in 1962 which used compressed air: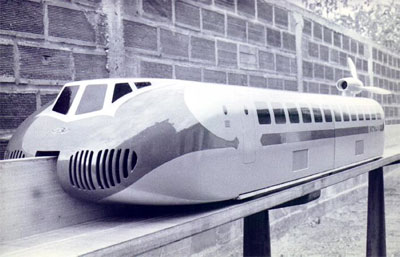 While the Aérotrain looks like a bit of a historical curiosity today, it does show that France was very focused on spending serious research and development funds in the 60s which has give them a very useful high speed railway system today. This never happened in the United states because 20th Century America had a deep love affair with the automobile — starting with Robert Moses with the New York parkway system in the 30s and reaching a high point with Eisenhower's Interstate Highway System of the 50s. However I wonder with the current green movement if we'll see a return to high speed rail over here.
If you think about it an American high speed railway system could eliminate a great deal of domestic airplane travel which consumes a great deal of fuel and is hub based anyway. Such a project could also be a very positive job creation program from the federal government. Also if we look back to France in the 60s we should be inspired to see that it might be a good idea to not just take what already exists — but put some real effort into innovation.
Maybe this might mean creating single user (or family sized) railway vehicles? Or perhaps we might see a return to something like trolley cars inside of urban settings which could replace buses. When you look at the video footage below of Mr. Bertin's handy work from 1969 you start to realize that even though we may hit some dead ends, that it's never too late to rethink a basic mode of transportation: