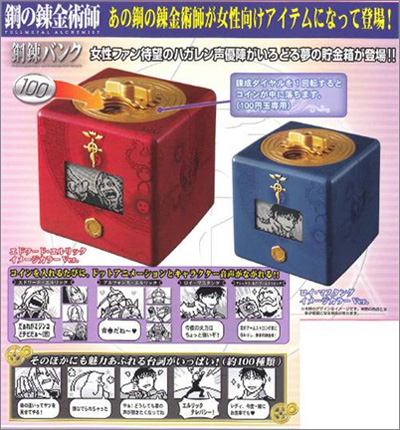 What makes this pair of Full Metal Alchemist Coin Banks so interesting is that when you put a coin in, it will trigger a cute low resolution digital animation on the front panel. One coin bank features Edward Elric while the other is themed with Roy Mustang. Here's a full description:
"Edward's Coin Bank is colored red to match his cloak and a little LCD screen on the front displays little spot animations that feature the brothers Elric in short gimmicky sequences that are accompanied by sound. Roy's Coin Bank is painted blue and also sports an LCD screen on the front which plays little animations of Roy Mustang whenever a JPY100 coin is inserted. For stateside savers, please note that a standard nickel can be used in place of the JPY100 coin since the dimensions are very similar. Preorders are welcome to ship in June 2009 at JPY3800 or US$48.90 from NCS."
…with Fullmetal Alchemist: Brotherhood now on the air in Japan my guess is that we'll see more cool goodies like this associated with the series.