Isaac Asimov was an engaging speaker. I found myself almost unable to avoid being hypnotized by his soft, yet well modulated tones. Taken from a 1971 interview, Asimov comments on the "Golden Age" of science fiction. This sheds a sharp perspective on this genre during the 1940's an era before moon landings, color televisions and the internet. Point of incredible interest: In this first excerpt Asimov logically explains why Science Fiction was so "adventure" laden leading up to this time frame. The this second expert focuses on the changes that took place after 1949:
Point of incredible interest: "The magazine of Fantasy and Science Fiction emphasized literaty quality, style. The mere fact that they had Fantasy in the title showed that they were less interested in strict science fiction. While H. L. Gold editor of Galaxy Science Fiction was more interesting more in the reaction to scientific advance, than to the scientific advance itself." Delicious! The interviews are complete in The Literatuer of SF, which can be found here.
Below: The cover from December 1950 cover of The Magazine of Fantasy and Science Fiction</ (Volume #1, Issue #5):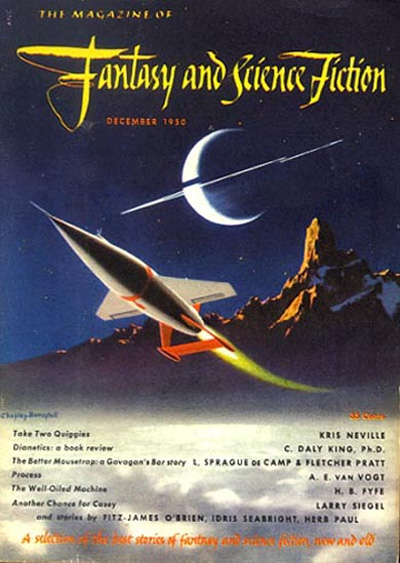 Below: A Christmas themed cover of Galaxy Science Fiction magazine from December 1951:
John Martone is Texas based writer bent on creating odd plays. When not doing that he disassembles plot lines for the enjoyment of the internet.