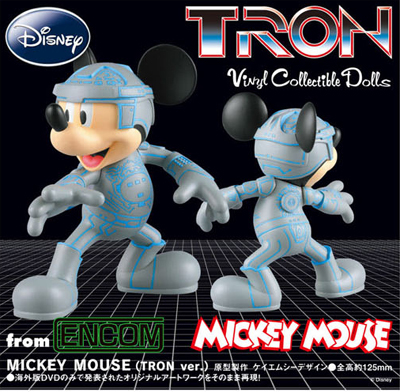 Taking him into the maze! Of course being a mouse playing a maze game is second nature when you kit bash Mickey Mouse and Tron. This Tron Mickey Mouse Vinyl Collectible Doll is available for preorder at National Console Support, here's their description:
"Disney debuted the original Tron movie in 1982 and it eventually scored box office sales of roughly $30 million. Tron engendered a number of video games including a coin-op from Midway which featured a funky joystick controller. Although Tron isn't really a part of popular culture nowadays, Disney is planning a sequel to the original movie that's slated to bow in 2011 which is one year shy of the film's 30th anniversary. This year is as good as any to start peppering the marketplace with Tron merchandise and Medicom gets things started in Japan with a Mickey Mouse Tron figure.
The Mickster is garbed in the blue-lit outfit that the good guys in Tron wear and his pose indicates that he might be ready to engage in some serious disc hurling antics. The figure measures 12.50cm or roughly 4.90″ tall. Preorders are welcome to ship in late September 2009 at JPY6090 or US$60.90 from NCS."
When are they going to have a Black Hole themed Mickey Mouse?