Posted by Michael Pinto on May 3, 2009 in
Comic Books
|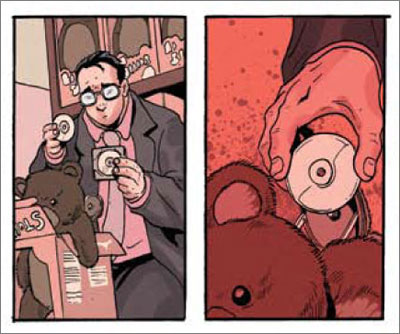 As an art school graduate I admit that I really do judge a book by its cover — and this is even more true with comic books, because if you can't get the cover right chances are no one cared about what went on the page. But in the case of Mr. Stuffins by I've been proved wrong, which is why I put some of the interior artwork at the lead of this article, because my fear is that the cover art might drive away my fellow fanboys (and fangurls) away from a comic book that looks pretty promising.
Now this isn't to put down the artwork of Axel Medellin and Drew Rausch, and in fairness to them it's hard to make the plot of this story look cool. And that's because the story hinges on a teddy bear who's been implanted artificial intelligence due to a last minute disc swap at a toy store by a run away scientist. The result of which is a cover that would be every comic book publishers worst nightmare: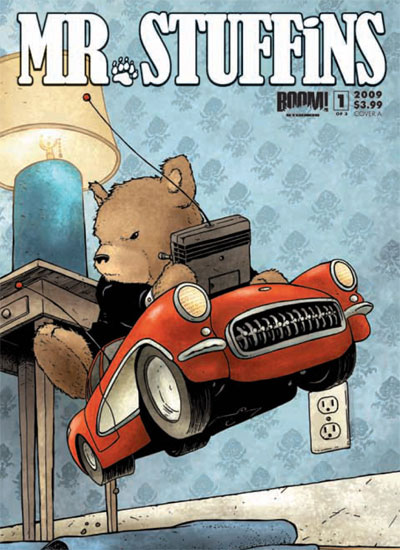 Clearly this cover is almost designed to scare away any self respecting fanboy, but once you get into the first few pages of this book the staid style of the artwork supports a very well done tale by Johanna Stokes and Andrew Cosby. The book opens up with a separated father trying to placate his child by offering to buy a toy. The dialog, characters and situation is very real which is something you so rarely see in comic books — but then the artists take it the next step and have a secondary story unfolding in the background which is a scientist being chased by government agents (click on the image to view at full size):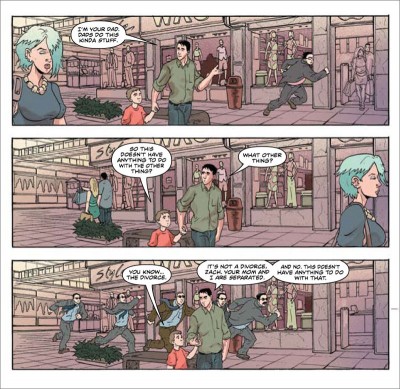 As they get inside the store you get the typical pantomime chase scene between the scientist and the government agents, but that contrasts well with the give-and-take of a father son conversation. What makes these panels work so well for me is that art really supports the story and gives you a nice page turning effect where you want to keep reading on — something that you see in Japanese manga but don't often find in American costume comics which feel the need for fast action and fight scenes (click on the image to view at full size):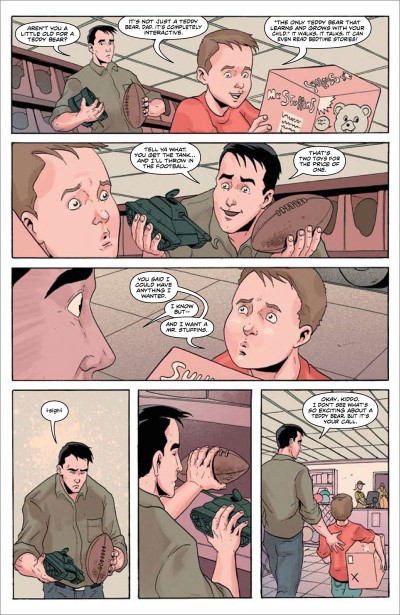 Now of course I'm judging all of this from a look at issue #1 which just came out this week (published by Boom! Studios) so there's still a chance that this book can devolve into a lame version of Toy Story, but so far I like what I'm seeing here. If Mr. Stuffins can stay in the background this might turn out to be one of the more interesting books I've seen a in while.