Posted by Michael Pinto on Jun 24, 2009 in
Television
|
Ed McMahon represents the passing of the age of broadcast television which his career mirrored, and of course he's best known for his long lasting gig at the Tonight Show with Johnny Carson from 1962 until 1992. But over the years he worked on a number of side projects: And from a fanboy point of view the most amusing to me is Legends of the Superheroes. This 1979 show was a sort of live action version of the Super Friends cartoon which was produced by Hanna-Barbera at the time.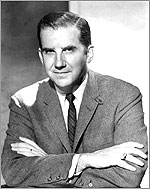 As you can see from the clip the short lived show was done like a variety show and McMahon played a host of sorts (you can see him about 40 seconds into the clip). What's also interesting about the show is that it starred Adam West and Burt Ward as Batman and Robin, reprising their roles from the original Batman TV series. which shows how poor Adam West was typecast into that role for the rest of his life.
McMahon was also well known as a pitchman who did every sort of commercial through out his career. His association with Publisher's Clearing House was legendary for years, although as examples of the art of advertising they lack a bit of imagination. Instead I like the more quirky products that he endorsed like dog food and the like which traded in on his straight man approach. This spot Budweiser beer shows Ed McMahon playing a wonderful second to Frank Sinatra:
What's lovable about McMahon is that he's also always the uncool guy which makes him into a sort of everyman hero. This is wonderfully captured in this 1963 party themed spot for the king of beers:
He would also do a great job of playing against himself — this 1979 spot for Polavision (an instant movie camera system launched by Polaroid in 1977) shows him using a serious state-of-the-art business device for making silly looking home movies:
And least you think of Ed as just pushing "guy products" like beer and tech gadgets here's a surprising spot for Cheer which is goes into the art of getting the whitest whites out of your washing detergent:
We'll miss you Ed McMahon, and the now lost age of broadcast TV which belonged to the second half of 20th Century America.