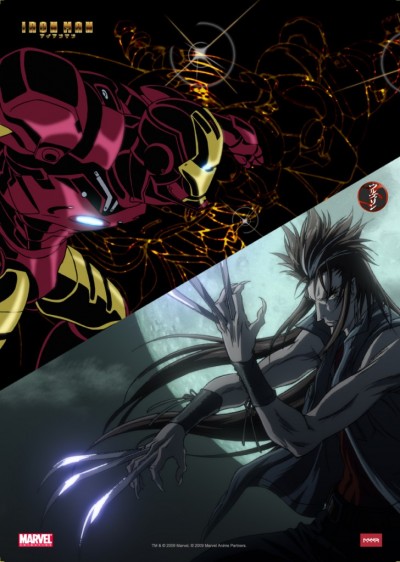 I really like what Madhouse is doing with Iron Man and Wolverine! As you can see with that extra touch of anime love Iron Man features some nice mecha and Wolverine wades more into a goth look:
…and here's the official press release:
Marvel Entertainment Inc., has partnered with renowned Japanese animation studio Madhouse (Paprika, Tokyo Godfathers) and multiple-Eagle Award winner Warren Ellis to create four all new anime versions of classic Marvel Super Heroes. Get an exciting first glimpse of IRON MAN and WOLVERINE, two of the planned four series!
These Marvel Anime TV series are being created as a way of merging the beloved Marvel Super Heroes of western culture with the bold animation tradition of Japan. The resulting product will be four visually groundbreaking anime series featuring popular Super Heroes redesigned and repurposed as emerging from the fabric of Japanese culture. The series is expected to begin appearing on the Animax channel in Japan in spring of 2010.
Madhouse, Inc., established in 1972 with offices in Tokyo, Los Angeles and Beijing, is one of the top animation studios in the world working exclusively with some of Japan's top anime directors. They have created many well-known titles such as worldwide hits Ninja Scroll, Vampire Hunter D, Trigun, Tokyo Godfathers, and Metropolis, Japanese successful TV series such as "Death Note" and "Nana", as well as Paprika (an Official Selection at the 2006 Venice Film Festival) and The Girl Who Leapt Through Time (2007 Japanese Academy Award for Best Film – Animation)