The Star Trek film this year owed so much to what Nicholas Meyer did with Star Trek II: The Wrath of Khan. TrekMovie.com snagged this nice interview with Meyer but I admit that it's a bit painful for me to watch. Frankly Meyer saved the franchise and his only reward was to be pushed aside — yet out of all of the Trek films and countless hours of television his is the only work that stands the test of time.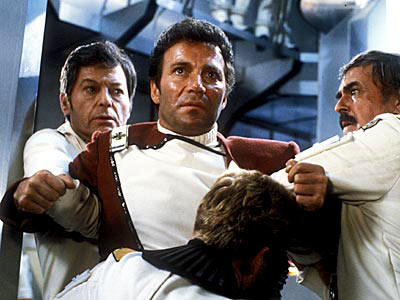 Now I can understand that with the egos attached to Trek in the 80s how he could get nudged aside, but you'd think someone in Hollywood would look at this guy and say "we've got a winner here" and let him run with the ball. Instead what you see is that he's struggling to get his films out there, when they should be begging him to do the work. What a petty town and industry.
Yet you get the tense that Meyer still loves his medium. When asked if he'd do the second Trek film he states "only if the script was right" — you can tell that by putting the idea that the film has to be great first is the reason he does such a good job. It's sad to me that others don't live by this golden rule.