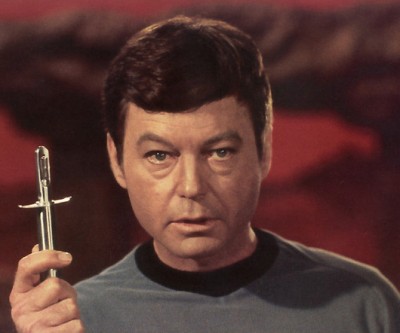 90 years ago today in the town of Toccoa, Georgia the wife of a local Baptist minister gave birth to Jackson DeForest Kelley. Foreshadowing his science fiction and television future DeForest was named after pioneering electronics engineer Lee De Forest who played a major role pioneering both radio and sound-on-film.
Above: DeForest Kelley in his first role in the military training film Time to Kill (1945).
Kelley's first interest in show business was singing and he actually managed to get a few local radio gigs as a child. He spent World War II in the Air Force when he decided to get into acting. He had many minor roles in films like Gunfight at the O.K. Corral and did a great deal of television work including series like The Lone Ranger, Perry Mason and Bonanza. So by the time he landed his role in Star Trek he had really paid his dues.
Above: DeForest Kelley is the 1959 television series Wanted: Dead or Alive.
It should be noted that during the first season of the show his credits were only shown at the end, so he earned the credits in the opening titles: In fact Kelley took a minor role and made it much bigger on the screen. Although this was a draw back as after the series he found himself typecast and unable to escape the character he had created. Sadly Kelly would pass away in 1999, although he did appreciate being loved by a generation (or two) of fans.