Posted by Michael Pinto on Feb 8, 2010 in
Comic Books
|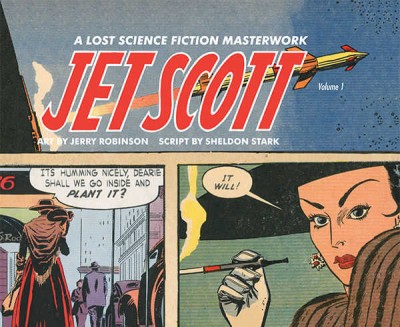 Jerry Robinson is best known as the comic book artist who helped to put Batman on the map along with Bob Kane — and credit for creating the Joker belongs to him. However sadly his other work is overlooked and that's why I'm glad that Dark Horse is doing a proper reprint of Jet Scott. This wonderful science fiction themed newspaper strip debuted on September 28, 1953 in The New York Herald-Tribune.
Now by science fiction you shouldn't get the idea that is space opera — instead the strip takes place in the near future. In fact I'd have to say that Jet Scott was a forerunner for what you'd later see in Jonny Quest or a James Bond film. In addition to the story by Sheldon Stark what's remarkable about this comic is just how good Robinson's draftsmanship was on a daily basis:



Here's a Sunday color reprint I found of the strip (I'm not sure if its in the book) but it should give you a good flavor for Jerry Robinson's artwork: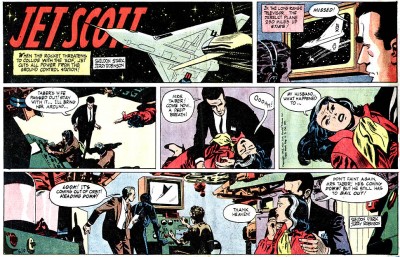 Volume 1 of this series comes out this Wednesday, February 10th, 2010.