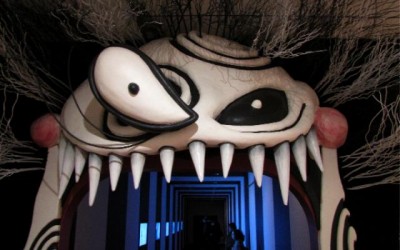 I haven't been to NYC's Museum of Modern Art since their admission price hit a serious $20. (Sure you can get info free Friday evenings courtesy of Target – if you don't mind standing on line for two hours.) I take that back; I've been there once or twice since, but gratis, wearing my fedora with the 'PRESS' pass tucked in the brim.
I wore it again the other day for a long overdue visit to MoMA's Tim Burton retrospective. (It's been there since November and heading off to Australia April 23). Judging from the crowds packing the exhibit, the show is probably the museum's biggest moneymaker in a long time (Burton could give Monet a run for his mo-nay) and pulling in a lot of people who previously never even heard of the place.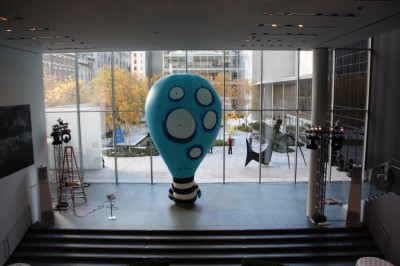 Some 700 pieces of the guy's work are on display, everything from his teenage 8mm movies to his high school 'don't litter' poster, Planet of the Apes props, oddball sculptures and just about every macabre doodle the man ever committed to paper. The mob made it impossible to do anything save looking over peoples' shoulders at every third artwork along the way. A few highlights:
Near the entrance, a dayglo-painted rotating carousel, populated by an assortment of dangling monsters (looking like escapees from an Invader Zim cartoon), accompanied by a Danny Elfman repeating tune…Just inside, a Zim-ish robot constructed of metallic spheres, the top of its head opening and closing…a wall filled with noodly caricatures reminiscent of Steinberg, Searle, Steadman – or Gilbert Shelton…a painting of a patchwork woman (reminiscent of The Nightmare Before Christmas' Sally) with spirals covering her breasts, enjoying a glass of poisoned wine (hypnotic spirals abound in Burton's oeuvre)…tentacled, candy-striped trees…a melting gingerbread man hanging from a noose…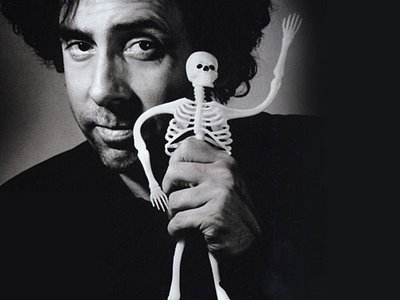 The exhibit moves into his professional career: The Black Cauldron character sketches from his brief stint as a Disney animator…a Jack Skellington maquette inside a display case, surrounded by his numerous replacement heads, one for each frame of stop-motion animation…a video alcove screening his bizarro, live action version of Hansel and Gretel, created for the Disney Channel 1983 (it aired once, never to be seen again until now; the kids sprawled on the floor in front of it were enjoying it immensely)…a fully accoutred, life-sized Edward Scissorhands mannequin (his elaborate shears for fingers close enough to relish every tiny detail) lording over an assortment of Batman cowls, clawed Catwoman gloves and Ed Wood's fluffy angora sweater… and not far from Sleepy Hollow's larger than life headless horseman, a framed multi-image sketch of Corpse Bride's uptight Victor losing it and turning a creepy-eyed wild man…
Not too shabby for a sensitive outcast artist growing up in the white bread suburban world of 1960s Burbank (ironically, not all that far from Disney's and Hanna-Barbera's animation studios): world fame and a massive MoMA retrospective while the popular kids who sneered at you are probably lucky if they're pulling down sixty grand a year.
Joe is an occasional animation scripter and freelance NYC writer covering animation and sci-fi/fantasy entertainment. His work has appeared in the NY Daily News, Newsday, the New York Press and, as they used to say on Rocky and Bullwinkle, 'a host of others.' He is a regular contributor to the animation industry website awn.com, but it's much easier to visit joestrike.com to see what he's been up to lately.