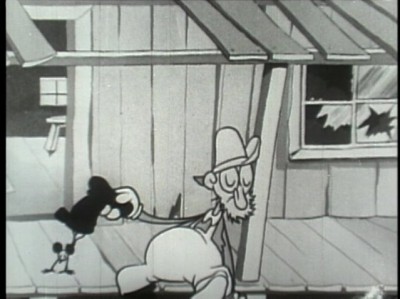 Tom Stathes' latest Cartoon Carnival, number five to be exact, was presented at a storefront venue known as Vaudeville Park, and hosted by Cinebeasts, a local film society. Not only were the cartoons time-warp material; the twenty-somethings who'd organized the evening were dressed for the occasion in bowties, bowler hats and suspenders, a pianist was playing Fats Waller tunes, the SRO audience consisted of everyone from college kids to retirees, and never mind the open bar – they were handing out free popcorn!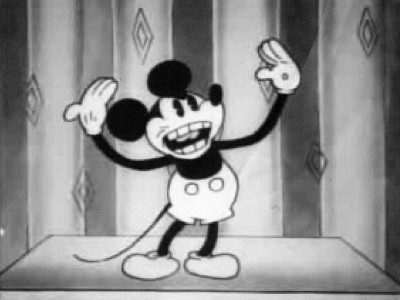 A few of Tom's regulars were onscreen – Farmer Alfalfa (inadvertently taking the place of a dancing bear), Felix the Cat (eluding a angry giant in another one of his fantasy landscapes) and Mickey Mouse, performing an ode to Minnie's Yoo-Hoo via some of the most painstaking (and weird-looking) lip sync ever.
Reel two featured George Pal's 1938 stop-motion Philips Cavalcade, a movie theater commercial for the radio manufacturer, and a completely new-to-me toon from a well-known name: King Klunk, an extended King Kong spoof (duh) from a pre-Woody Walter Lantz. (Klunk's skeletal demise triggered an empathetic 'awww' from the audience.) The evening ended with a stop motion Western epic from an unknown filmmaker (quite good at his craft, too bad we'll never know who he was) starring 'Hector the Pup' and his feline girlfriend (bearing an unmistakable resemblance to one of Avatar's Na'vi) outsmarting an outlaw wolf.
On the program guide's back cover: a helpful listing of cartoon mogul deaths ("Collect 'em All!"), from Disney's 1965 demise from lung cancer to Lantz's 1994 old age farewell after clocking a solid 95 years on the planet. Tom will be back anon, no doubt about that; in the meantime I'm setting my alarm clock for Cinebeasts' next must-see blowout – a screening of Estonian soviet-era TV commercials.
Joe is an occasional animation scripter and freelance NYC writer covering animation and sci-fi/fantasy entertainment. His work has appeared in the NY Daily News, Newsday, the New York Press and, as they used to say on Rocky and Bullwinkle, 'a host of others.' He is a regular contributor to the animation industry website awn.com, but it's much easier to visit joestrike.com to see what he's been up to lately.