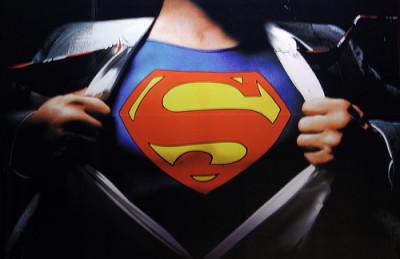 Above: Events like this are proof that you don't have to be a Superman to make the world better!
If you're a comic book fanboy who is in New Jersey you may want to check out the Superheroes For Hospice event on Saturday, April 24 at the Livingston Mall. The event which will be packed with professional comic book artists and writers will be a benefit for the Saint Barnabas Hospice and Palliative Care Center. Visitors will have a chance to meet and greet, get autographs and purchase comic books and original artwork for a good cause.
Guests for the event include Jim Salicrup, former Spider-Man editor and current editor-in-chief of PaperKutz Comics; Archie artists Fernando Ruiz, Jeff Shultz and Glenn Whitmore; Archie editor-writer and co-creator of Mecha Manga Bible Heroes Paul Castiglia; Thomas Hall, writer and co-creator of Robot 13 and Mecha Manga Bible Heroes; John-Marc Grob, artist-creator of the FriendFish animated series and president of JMG Studio; sketch card and Femforce comic artist Manny Mederos; illustrator Bobby Vala, who has designed several action figures for Mattel and Hasbro Toys; Steve Conte, creator of Action Figure Kingdom; and Mike Arnold, creator of Jokester Magazine who will be doing caricatures at the show.