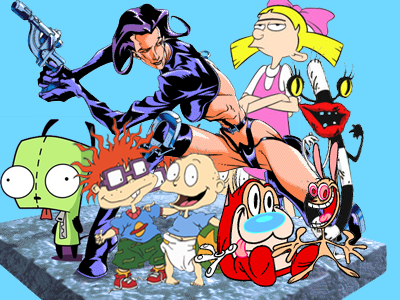 Netflix's Watch Instantly feature has been a pretty handy tool since it launched. Users could slog through entire seasons of Law and Order, classic flicks like Harold and Maude and Guess Who's Coming to Dinner, and certain sets of niche genre films, all at the click of a button.
But recently Netflix added a batch of titles to its library that transformed Watch Instantly into THE place for kids who watched a lot of cartoons in the '90s (not including anime, which makes up the vast majority of Netflix's "Anime & Animation" section).
On May 22nd, Netflix made the following classics available:
Ren & Stimpy
I'm not sure I ever really understood why Ren & Stimpy was on Nickelodeon– the humor was immature, sure, but it was gross on a level I doubt any kids' network would be gutsy enough to show these days; and the dog and cat duo (more specifically, chihuahua and manx duo) did eventually wind up on MTV for a stint. But now you, too, can remember the joys of the Happy Happy Joy Joy song and everyone's favorite product, the Log.
Rugrats
And on the opposite end of the Nickelodeon spectrum we have Rugrats, which followed the daily adventures of five (later six) kids aged newborn to three, but unlike other failed attemps– I'm looking at you, "Baby Looney Tunes" –it didn't talk down to its audience, and the charming imagination of its characters kept me as a fan for probably longer than I was strictly part of the target audience. But if I had kids I'd want to show them Rugrats. (But ignore All Grown Up, the "sequel" which follows the same characters as middle schoolers. Overwhelmingly "meh.")
Hey Arnold!
It took Hey Arnold to make me realize that a dude wearing a kilt is awesome, but the real star of the show had to be Helga, who was the epically cool unibrow bully. True to form, she had a massive crush on Arnold, which always turned into abuse, and backfired more often than not. (In her defense, Arnold's head DOES look like a football.)
Aaahh!!! Real Monsters
From the team that brought you Rugrats came Aaahh!!! Real Monsters, three young critters– the cane-shaped Oblina, impish Ickis, and Crumb, who looks kind of like a Mister Saturn from Earthbound holding his eyes above his head –try to become full-fledged monsters, training in the art of the scare. Think the charm of Rugrats meets the gothic whimsy of the Nightmare Before Christmas.
Aeon Flux
Remember when the only part of Aeon Flux was the really awesome and totally freaky cartoon, and not that mediocre movie starring Charlize Theron? Those were better times. Admittedly, the first time I watched Aeon Flux I was too long to really understand half of what was going on, but even then I could see that Aeon Flux was doing something really different from any cartoon I'd seen before.
Invader Zim
From the genius mind of Jhonen Vasquez, who comics fans will recognize as the man behind Johnny the Homicidal Maniac, springs Invader Zim, a pint-sized alien determined to take over earth. Perhaps more famously the series featured Gir, a broken, zany robot with a love for singing, dancing, and tacos.
Thank you, Netflix. We love you, too.
Gia Manry is a professional writer based in San Francisco, CA. She likes being followed on Twitter and can also be contacted via her website