What do you get when you throw a hot Japanese actress into a costume vaguely reminiscent of a bit player in Xena: Warrior Princess and give her breast beams? The answer, of course, is something like the above video, found by Topless Robot.
The clip is from a Japanese tongue-in-cheek cheesefest TV series Kodai Shoujo Dogu-chan, which revolves around a hyperactive young woman from ancient Japan (for history nerds, the Joumon period, which covers about 14,000 to 300 BCE) who comes to the present to fight youkai (demons). Dogu-chan naturally has a run-in with a nerdy shut-in named Makoto, who is immediately conscripted into helping her out. But the star of the show is definitely Dogu-chan, played by idol Erika Yazawa.
Is it just me, or do her breasts turn into some kind of gateways to hell? Actually what they really remind me of is the Eye of Sauron. But there was only one of those…which won't stop us from putting together a Photoshop anyway!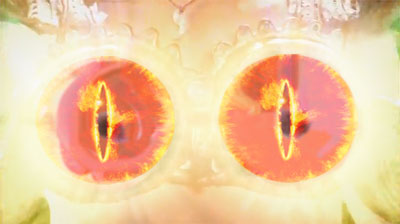 Gia Manry is a professional writer based in San Francisco, CA. She likes being followed on Twitter and can also be contacted via her website.