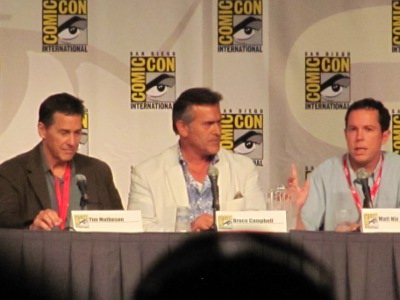 Bruce Campbell is a geek's hero: the star of the Evil Dead franchise and the man's own tongue-in-cheek charisma have skyrocketed him to superstar on his own terms. If you're ever at a fan event featuring Campbell, you should do yourself a favor and attend his panel– especially at Comic-Con. Here's why.
1. He's Hilarious
Not only does he have a good sense of humor– always important when the Q&As yield stupid questions about chainsaws –but he's got every bit of the same comedic tone and timing on the fly as he does on the screen.
2. His Sense of Style
At Comic-Con he launched with a bell-kick on his way out onto the Burn Notice panel and performed a flawless pratfall. And he was dressed in a white suit and blue aloha shirt. Classic.
3. He Gives Away Money
No, really, at least two Comic-Con 2010 attendees who asked particularly flattering questions walked away with cash. As did a couple of his fellow panelists.
4. He Might Announce Something Coolalways attend Bruce Campbell panels.
Gia Manry is a professional writer specializing in geek culture. She currently writes primarily for Anime News Network, but also likes being followed on Twitter. She can be contacted via her website.