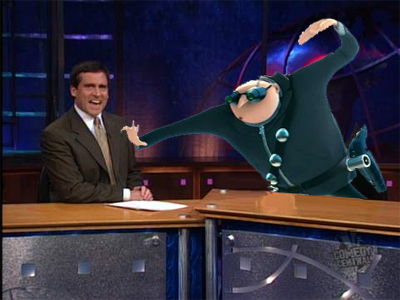 Upcoming villain-as-hero CG flick Despicable Me is opening this week, starring Steve Carell as supervillain Gru who is forced to care for three not-always-adorable children. But while Carell might be better known for sweet guys like his Andy Stitzer in The 40-Year-Old Virgin, he's spent plenty of time being despicable– like in the following Even Step(v)hen bits alongisde his then-colleague at the Daily Show, Stephen Colbert.
1. Medicinal Marijuana
Carell entices Colbert into becoming one of those hippie potheads. OH NO.

2. Responsible Drinking
You should see what Carell has to say after about seven or eight alcoholic beverages.

3. Reality Television
Anyone who likes Survivor deserves to be called despicable.

4. Islam vs Christianity
As usual, this debate ends when someone brings up Judaism. Sort of.

5. Stem Cell Research
Steve is in favor of healthcare for Dutch prostitutes, which is cool– but he also had that night's topic wrong. DESPICABLE!

Gia Manry is a professional writer specializing in geek culture. She currently writes primarily for Anime News Network, but also likes being followed on Twitter. She can be contacted via her website.