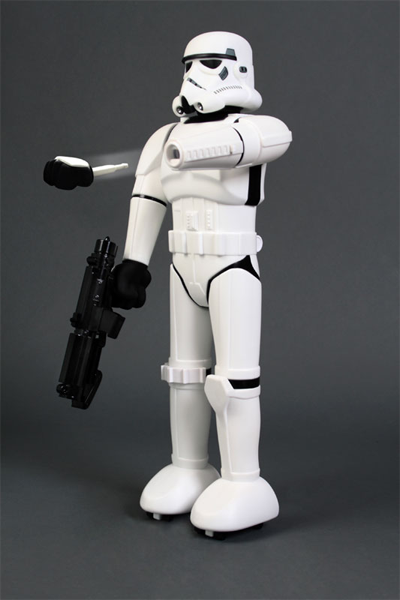 As a Japanophile of some record, when I first heard the words 'Super Shogun Stormtrooper,' my first mental image was of the samurai Darth Vader swag and costumes I've seen around over the years. I further extrapolated that a Super Shogun Stormtrooper would be something along those lines: a Japanese-inspired Stormtrooper redesign. How cool is that? Might go nice in a glass cabinet, right? Geeky, but with a bit of class!
I was so, so wrong.
The Super Shogun Stormtrooper, it turns out, is a re-creation of a toy from the '80s that was a fusion between Japan's Shogun Warrior toys (known there as Jumbo Machinder) and Star Wars' ubiquitous footsoldiers. And it can shoot out one of its fists or something.
Nostalgia is great and all, but really, is the U.S. so out of spiffy ideas that that not only are the best films so far this year sequels and adaptations (Toy Story 3 and How to Train Your Dragon), but we can't even come up with a new Stormtrooper toy?
On the other hand, maybe we're looking at this all wrong. Maybe this is really a brilliant play at recapturing the older fans, who may not have as much disposable income but are still willing to pay $300 for a replica of a sort-of collectible toy? Hell, an original of the toy appears to be running for about $25 with a bunch of other Star Wars toys on eBay.
Well-played, Lucas. Well-played indeed.
Gia Manry is a professional writer specializing in geek culture. She currently writes primarily for Anime News Network, but also likes being followed on Twitter. She can be contacted via her website.