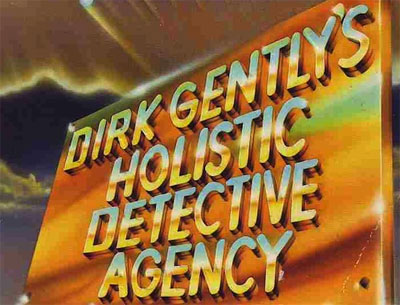 No, it's not yet another Hitchhiker's Guide to the Galaxy— it's Dirk Gently's Holistic Detective Agency!
…What do you mean you don't know anything about Dirk Gently? POSER!
In all seriousness: Dirk Gently's Holistic Detective Agency is a sci-fi detective novel that Adams wrote in 1987, ten years after Adams first pitched Hitchhiker's Guide to BBC Radio 4. Like Hitchhiker, the book supposes a less than elegant creation for humankind: life on Earth began because of a galactic accident, and the planet remains haunted by the ghost of the alien engineer who caused it. The story the follows involves using time machines to impress girls at parties, the possession of 18th-century romantic poets, and the possible demise of humanity.
All in all, a very Adams-like book. (He also wrote a sequel titled The Long Dark Tea-Time of the Soul, and started a third, which later became the final Adams-written Hitchhiker novel, The Salmon of Doubt.)
According to Geekosystem, the BBC plans to make a one-hour special out of the book, and a series if the special performs well enough.
As someone who was very disappointed that they didn't make more Hitchhiker's Guide films, particularly with the delicious Zooey Deschanel as Trillian, this warms the cold caverns of my frozen heart.
Gia Manry is a professional writer specializing in geek culture. She currently writes primarily for Anime News Network, but also likes being followed on Twitter. She can be contacted via her website.