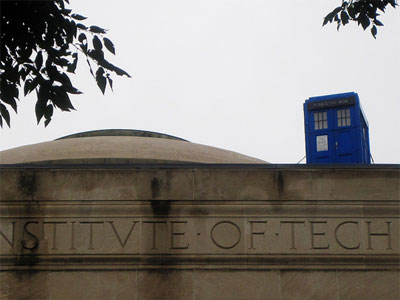 Pop culture geeks: 1. Stuffy nerds who study instead of watching TV: 0.
If you're anywhere near Cambridge, Mass. and you're…well, the kind of person who reads a site like Fanboy.com, you should probably make a pit stop over at MIT sometime soon. Someone has managed to land a TARDIS (that would be Time And Relative Dimension In Space, or the time machine from Doctor Who, if you didn't know) on top of the Massachusetts Institute of Technology's roof.
The feat was accomplished by hackers, says Wired, and they shouldn't be blamed for their odd use of the word "hack"– not because I'm suggesting that these MIT kids managed to hack into a computer from the future and program a TARDIS to land there, but because MIT itself refers to such pranks as "hacks."
You would think that the folks who run and go to MIT would know the definition of hacking, but I suppose these are more tech geeks than word nerds per se.
Gia Manry is a professional writer specializing in geek culture. She currently writes primarily for Anime News Network, but also likes being followed on Twitter. She can be contacted via her website.