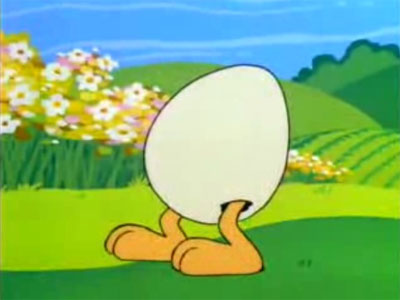 If you're the kind of person who buys groceries somewhere other than 7-11, then you're already aware, but for the college kids out there: there's a HUGE egg recall going on right now, which just expanded and now includes some 400 million eggs that may be contaminated with salmonella.
The whole affair reminds me of someone. Someone…from Garfield and Friends.
Sure, he seemed like a nice enough guy: a little shy, but smart and resourceful. He always had what you needed hanging around inside his egg shell. I am, of course, speaking of Sheldon, brother to the baby chick Booker.
But Sheldon's been off the grid for years, and now this egg thing? I'm starting to wonder if that shy, retiring, hiding-in-an-egg-shell act wasn't covering up some more…sinister tendencies. And we already know that Sheldon could store something as large as a pinball machine in his egg; how much harder would it be to store some kind of biological weapon?
I know, I know, I have no evidence, much less proof. All I'm sayin' is, when you check your eggs against the lot numbers listed for recall…keep an eye out for a pair of legs.
Just sayin'.
Gia Manry is a professional writer specializing in geek culture. She currently writes primarily for Anime News Network, but also likes being followed on Twitter. She can be contacted via her website.