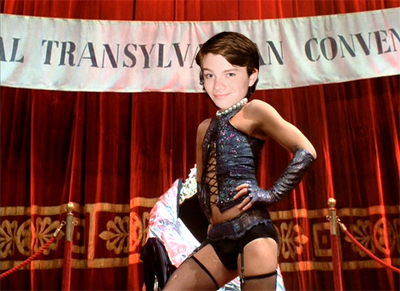 I'm always happy for a geeky excuse to talk about Glee. And last time, I demanded that the writers of the show plug in a Rocky Horror Picture Show number. But now that it's actually happening, I find myself a little skeptical about how the show that is essentially High School Musical for a slightly older set will manage to pull it off.
I'm no RHPS fanatic– I've watched the movie a number of times but I'm a "virgin" when it comes to going to a singalong screening or live performance. I confess, I'm a little scared off because a friend told me about his first time, which involved people throwing eggs at others. Not my idea of a good time. (Also, I don't know all the lyrics. Horrors!)
But a whole EPISODE of Glee doing Rocky Horror? It seems to me that if you're not going to go out of the house to do the whole big shebang, so to speak, you might as well curl up and watch Tim Curry in a corset, 'cause damn, he works it.
As for Glee, I specified that they needed to a number other than The Time Warp, but according to the Hollywood Reporter (linked earlier), that's the song that inspired them to do the whole episode. Meh! Also, even though Kurt is the character I plugged onto Tim Curry's body in the above picture (originally created for my previous post), I feel like it'd be a cop-out to put resident glam gay Kurt in the traditional sparkles.
Now, if they can get jackass jock Puck in a purple corset, THEN I might be impressed.
Gia Manry is a professional writer specializing in geek culture. She currently writes primarily for Anime News Network, but also likes being followed on Twitter. She can be contacted via her website.