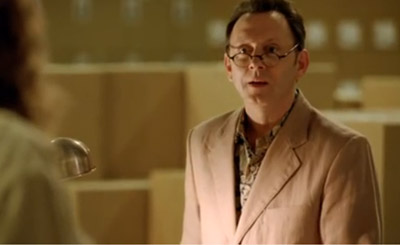 As you can probably imagine, the leaked Lost epilogue has been pulled from many fan sites around the net since it hit the web yesterday. Disney was quick to pull the plug, though you can still catch it here if you're lucky. For those of you who'd rather wait until the DVD box set hits shelves later this month, the epilogue promises to answer some, but not all, of those lingering questions that we had once the series finale aired back in May.
For those of you who, on the other hand, are a bit curious about the epilogue, it features Mr.Linus as he arrives at the Dharma Logistics Warehouse. In the scenes that follow, he informs the employees — both of which had been tasked with loading pallets of food to be shipped for the past 20 years — that their services are no longer needed. A few more scenes follow, one involving the viewing of an old Betamax tape. What could be on it? Well, you'll just have to see for yourself.
Tim is a pro-blogger and freelance writer out of San Diego, California. In addition to Fanboy.com, he contributes to the ModernMethod Network of sites as the Features and Reviews Editor for the Japanese culture and entertainment blog, Japanator. He's also an Assocaite Editor for the collectible toy culture blog, Tomopop. For more information, follow him on twitter, or check out TimSheehy.com.