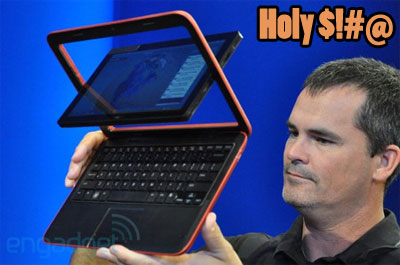 When you think of technology companies that manage to turn a gimmick into gold, you usually would think Apple. Granted, those gimmicks are matched by a mostly smooth user interface so easy even your great-great-grandparents could use it, and they're dead…but gimmicks they are. Touchscreens? Apple's iPhone and iPod Touch. Tablets? Apple's iPad. There are more examples, but I don't like to think about them: I, after all, am a non-iFanperson.
From my vantage point as the non-iFanperson– someone who, for reasons just or unjust, elects not to buy every iDevice they see or hear about online –I can understand how frustrating it can be when you see a product Apple is putting out and want something like it, but just aren't willing to compromise your ideals (and besides, even those Apple devices have flaws, sometimes significant ones).
But Dell has announced a new netbook computer that may be a device for the non-iFanpersons to latch on to. It's a netbook with a detachable screen that can be removed and operated as a tablet on its own, or popped back into the laptop frame, effectively a docking device with a keyboard (and perhaps other features like a CD/DVD-ROM? Not sure). Details are scarce on the device but Dell intends to have it out by the end of the year, so keep an eye out!
Tangentially, I originally thought that the non-iFanpersons' chosen device might be Microsoft's Courier, which was sort of like two iPads taped together and if they could make it so that you could elect to hold it like a book or turn it on its side and launch a touchscreen keyboard on the bottom side, it would have been brilliant. Too bad they cancelled it. (Jerks!)
Gia Manry is a professional writer specializing in geek culture. She currently writes primarily for Anime News Network, but also likes being followed on Twitter. She can be contacted via her website.