Posted by Tim Sheehy on Sep 21, 2010 in
Videogames
|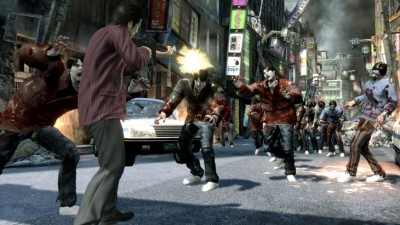 Sega's Yakuza series — known in Japan as Ryu Ga Gotoku — has had a rather interesting history in terms of localization. While the first game was given the full treatment, complete with English voice acting and uncut content, its sequels were released with mere subtitles and lacking much of the content the game had become infamous for — Japanese host clubs, mahjong parlors, and the like. That said, I absolutely loved every minute of the series. The characters were easy to relate with, while the story was entertaining, and provided a interesting look at the every day life of Yakuza, from their hardships to their more recreational ventures. So why would Sega finally decide to end the series as we know it?
If you can believe it, the series had actually been praised by several real-life Yakuza for its accurate portrayal of their life-style and the world they live in — despite the itself plot being fictitious — and, while many of us are intimately familiar with the workings of the Italian mob, we know so very little about its Japanese counterpart. This lends credence to how important I felt the series was, at least in terms of providing westerners like myself with insight into a culture we're barely familiar with.
So, you can imagine my shock when Sega recently announced my favorite series would be infested with hordes of zombies in their latest entry Ryu Ga Gotoku: Of the End. At first, it seemed like an interesting concept for a side-story, or one-off entry that would be unrelated to the story as a whole, but then they made a point to highlight the fact that it will be the next official entry. Why would Sega feel the need to ruin the series? Why not imply reboot it, or rename it? Well, in so many words, Sega told us that they felt the franchise needed a fresh start, and that the best way to start anew would be to demolish everything. So, why not give us an opportunity to participate in that demolition?
Frankly, I'm not too fond of the idea of having to participate in destroying something that I've grown so attached to, and I'm sure many feel the same way. Add that to the fact that the whole Zombie thing is a bit played out, and you're we're just left shaking our heads in disappointment. I honestly thought Sega was better than that. Of course, I'll still but the game, if for any reason, to insure future titles make their way stateside — it's just a shame that it may as well be the only reason I'm doing it.
Tim is a pro-blogger and freelance writer out of San Diego, California. In addition to Fanboy.com, he contributes to the ModernMethod Network of sites as the Features and Reviews Editor for the Japanese culture and entertainment blog, Japanator. He's also an Assocaite Editor for their popular gaming blog, Destructoid, and the collectible toy culture blog, Tomopop. For more information, follow him on twitter, or check out TimSheehy.com.