Posted by Michael Pinto on Sep 24, 2010 in
Comic Books
|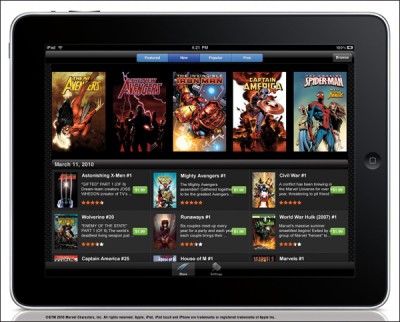 Not so long ago New York Times publisher Arthur Sulzberger admitted that the New York Times may stop publishing a printed version in the near future. Of course the newspaper of record is an exception to the rule, so one should expect other publication formats to follow suite — and that very much will include comic books. My gut feeling tells me that while coffee table collector editions will be here for eons that the bread-and-butter comic book that you see published by Marvel and DC won't be around in a few years.
For starters the real money with comic books aren't the physical books but the rights to the characters themselves. When it comes to income Marvel and DC are more about Hollywood films and licensed product like toys than actual books. While the books themselves are the heart of the business as a generation grows up with iPads they'll expect to be reading books on them.
To this end the comic book companies seem quite serious about the medium, and maybe even ahead of the curve when put next to other types of publications like newspapers. Although I think that the real shift will occur when publishers stop thinking about scanning a book and putting it on an tablet, but instead start to do production aimed specifically for the medium. At that point we might start to see light interactivity, limited animation and sound effects as standard features in comic books.
If this occurs we might actually be at the dawn of a new golden age of comic books that aren't books. My hope is that the shift in technology may open the door for new publishers to step into the fold: In fact in many ways web comics are a first step in this direction. In theory the next generation of publishers could be the artists and writers themselves who make their revenue directly from their audience much the way successful bloggers do. And as with bloggers we might even see ad networks setup and eBook distribution channels evolve. Of course people will pay a premium for characters they already know and love — but every time a new medium dawns it opens up the door the next wave.