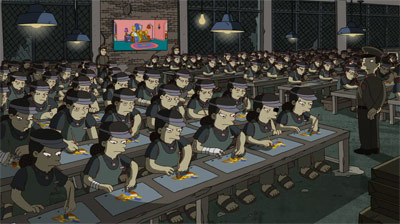 Ever since the latest episode of The Simpsons aired this past Sunday, the Internet has been abuzz about British political activist and graffiti king Banksy's contribution to the opening sequence — most notably its extended couch-gag. While I'm not able to actually post the couch-gag here, I can link to Fox who currently has the episode in question available for streaming free of charge.
To basically sum up the gag, the image of the family sitting on the couch zooms out to show what appears to be an Korean sweatshop, creating each individual cell used to animate the show. Interestingly enough, it occurs shortly after a sound-effect is played, which is often used to queue dream sequences. I imagine this was done at the behest of Fox, as the scenes that follow certainly paint the studio in a negative light. Shortly after the scene with the cells, we're treated to Banksy's interpretation of the Chinese labor used to create some of the licensed merchandise associated with the show before ending on an image of the 20th Century Fox logo looking somewhat like a prison camp.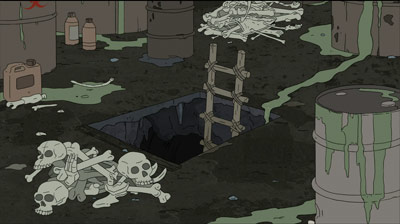 Personally, I found it to be a bleak, albiet valid statement on the ethics and conditions of out-sourced labor.  Though, I doubt it accurately portrays the exact conditions these workers experience, I would imagine it wouldn't be far from the truth. Banksy — who had actually been invited by the show's producers to contribute his work — went on record stating that his work was influenced by The Simpsons' long running use of Korean animation studios. A fact that seems to be shared by all the animated series currently running on the Network's prime-time lineup.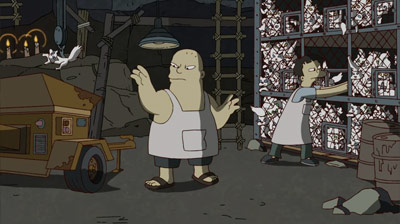 It actually bothers me a little bit that I've never given much thought to the conditions of those animation studios, especially considering shows like Family Guy often make light of the mistakes made by their outsourced labor with their DVD commentary. While I'm aware there are bloggers writing about this around the world as I type this, I find myself wondering just how many share in my concern.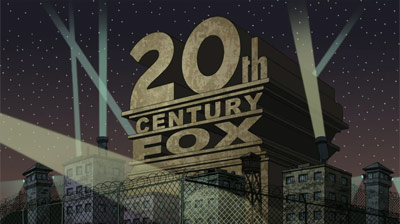 Tim is a pro-blogger and freelance writer out of San Diego, California. In addition to Fanboy.com, he contributes to the ModernMethod Network of sites as the Features and Reviews Editor for the Japanese culture and entertainment blog, Japanator. He's also an Assocaite Editor for their popular gaming blog, Destructoid, and the collectible toy culture blog, Tomopop. For more information, follow him on twitter, or check out TimSheehy.com.