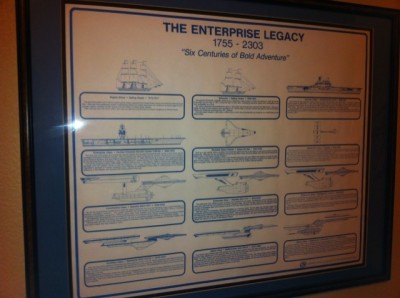 Back in 1987, Star Trek the Next Generation had just hit the air and Shatner had yet to release the flop that was Star Trek V. It was an exciting time for Trekkies and there plenty of companies lined up to take advantage of that ever-growing market. One such company was Temporal Graphics based out of Sutton, MA. In addition to producing a number of blue-prints for non-existant Star Trek vessles, they created posters, one of which is this beauty — "The Enterprise Legacy: Six Bold Centuries of Adventure."
The poster featured a list of what was believed — at least, at the time — to be the legacy of the name Enterprise. Aside from being a product of its time, and thus lacking the future additions, such as Archer's NX-01 and so on, there are a number of glaring inaccuracies, no doubt due in part to the Next Generation press materials failing to provide details about the newest series that would later be ironed out via scripts.  On the other hand, what's more interesting is the fact that they managed to correctly peg the Enterprise-B as an Excelsior class ship, despite the fact that we never knew for sure until it appeared in Star Trek Generations nearly a decade later.
That said, there are far more errors on the poster than not, not the least of which would be the date of comission for the Enterprise D, which it lists as having launched in 2303 — an episode at the end of the first season establishes that it's taking place in the year 2364. Despite these issues, owning this unique poster is pretty much the closest thing I'll get to having a case full of model Enterprises in my conference lounge. Assuming you want to try and track one of these down, your best bet is eBay — in fact, that's where the close-ups below come from — though, you might luck out next time you attend a Star Trek convention. If you do come across one, it'll probably be in better condition than that one for auction. As you probably noticed from the image above, mine's still pristine.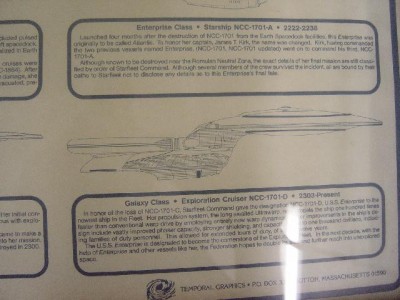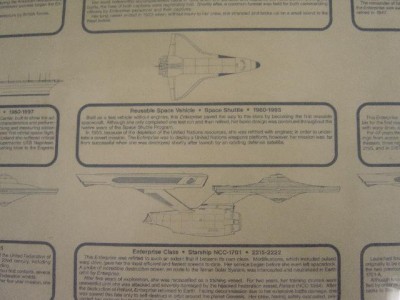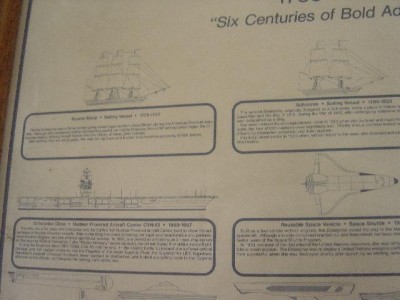 Tim is a pro-blogger and freelance writer out of San Diego, California. In addition to Fanboy.com, he contributes to the ModernMethod Network of sites as the Features and Reviews Editor for the Japanese culture and entertainment blog, Japanator. He's also an Assocaite Editor for their popular gaming blog, Destructoid, and the collectible toy culture blog, Tomopop. For more information, follow him on twitter, or check out TimSheehy.com.