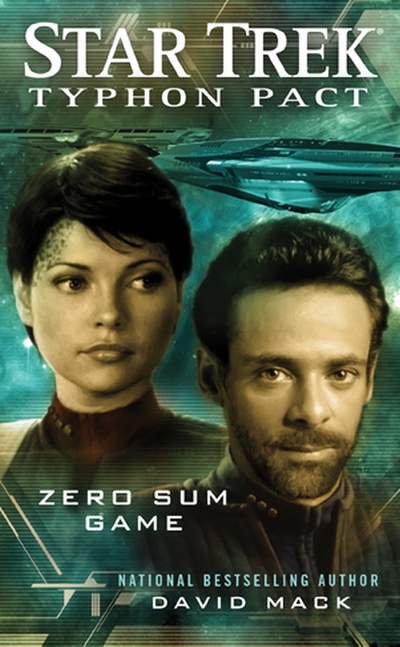 There are those of us out there who can't get enough Star Trek. We've seen every episode and own every film — even the director's cut of The Motion Picture, don't ask why — and yet we crave more. With J.J. Abrams running the show, god only knows how long it'll be until we see the next film hit the big screen. On top of that, many of us, myself included are still coming to terms with his alternate universe and what that means for the future of the series we've all known and loved. Thankfully, a place still exists where we can hide from the changes that have warped our precious universe — the novels.
Unfortunately, much like Hollywood films, these novels take time to write, and while the wait isn't nearly as long, fans have have been on pins and needles for nearly a year awaiting the latest release, David Mack's Zero Sum Game. Hitting shelves later this month, the book is the first of a series which arcs over several franchises, including The Next Generation, Titan — the series which follow William Riker and his crew — as well as Deep Space 9. Each novel in the four part series announced thus far will be released over the course of the next four or five months starting with Zero Sum Game on October 26th. Amazon currently has it available for pre-order.
For those of you who are curious, the upcoming Typhon Pact mini-series will deal with a newly formed alliance between several hostile races who had been at odds with the Federation in the past, such as the Romulan Star Empire and Breen Confederacy. Having seemingly ended the Borg threat once and for all, the alpha and beta quadrants had been left in shambles with the Federation having taken the brunt of the damage, resulting in a fairly even playing field where anything could happen. They've done a fairly decent job building up to this, so I have to admit I'm a little excited to see where they go with it.
Tim is a pro-blogger and freelance writer out of San Diego, California. In addition to Fanboy.com, he contributes to the ModernMethod Network of sites as the Features and Reviews Editor for the Japanese culture and entertainment blog, Japanator. He's also an Assocaite Editor for their popular gaming blog, Destructoid, and the collectible toy culture blog, Tomopop. For more information, follow him on twitter, or check out TimSheehy.com.