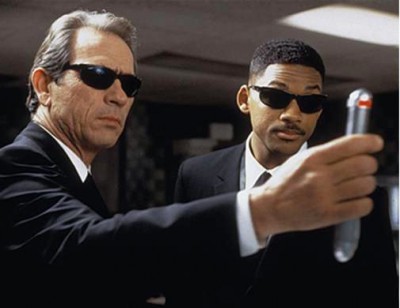 I don't have very fond memories of the Men in Black films. I'm not sure if it was the campy PG humor, saturation or excessive use of CG, but something about the films always left me wanting less. The first time around, it wasn't because it was a terrible movie. In fact, I actually liked it until I had to watch it more than once. The sequel, on the other hand, was pretty terrible. Everything about it, save for the excessive CG, felt rushed — as if the producers couldn't wait to capitalize on the oil they thought they struck. It would also seem that I'm not alone in my opinion. But why, then, would we need another sequel?
To put it simply, we don't — but people will watch it any way. It's probably been enough time since the last film for people to have forgotten just how bad it was, and casting Will Smith practically guarantees an audience. Furthermore, they're filming it in 3D, which kids seem to love these days. It's just a shame that Smith or Tommy Lee Jones couldn't have turned this down in favor of something worth our time. I'm sure more than a fair share of you would rather see the much anticipated prequel to I am Legend, or another entry in the U.S. Marshalls/The Fugitive saga. Any way, for those of you who are excited about it, Men in Black III starts filming this week.
Tim is a pro-blogger and freelance writer out of San Diego, California. In addition to Fanboy.com, he contributes to the ModernMethod Network of sites as the Features and Reviews Editor for the Japanese culture and entertainment blog, Japanator. He's also an Assocaite Editor for their popular gaming blog, Destructoid, and the collectible toy culture blog, Tomopop. For more information, follow him on twitter, or check out TimSheehy.com.